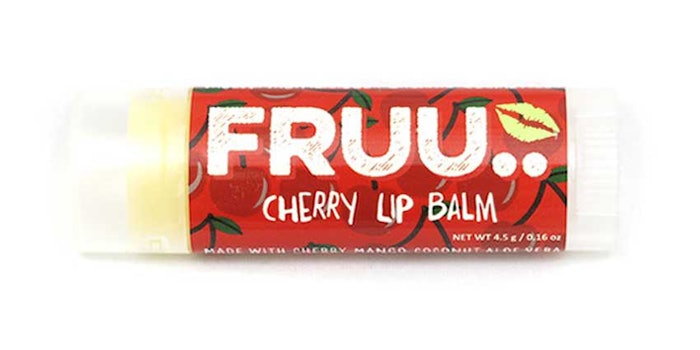 This edition of 'Read the Label' reviews FRU.. Cherry Lip Balm. The brand claims its products are made from fresh ingredients and are vegan, cruelty-free and sustainable.
Related: Lip Balm Formulas
Upcycling waste materials and incorporating them into cosmetic products is set to be the next big trend for our industry, with consumers becoming more aware of their environmental footprint and changing their buying habits by switching to ethically sourced products. Biodegradable and compostable materials are growing in popularity, which makes food waste ingredients key in this upcycling trend.
In this food-inspired "Read the Label" column, I'll be reviewing FRUU..'s Cherry Lip Balm. The brand claims the product creates a matte look on the lips with a smooth and buttery after-feel, and that it contains more than 70% fruit-based ingredients, including cherry oil–a byproduct of the tinned (canned) cherry industry. The lip balm also contains a variety of butter and oils to create a solid stick that melts upon application to the lips. 
Here, I have highlighted some of the key ingredients used within this product and have explained how I believe they are contributing to the product's performance:
Ingredients: Euphorbia Cerifera Cera (Candelilla Wax), Cocos Nucifera (Coconut) Oil, Simmondsia Chinensis (Jojoba) Seed Oil, Theobroma Cacao Seed (Cocoa) Butter, Prunus Avium (Cherry) Seed Oil, Aloe Barbadensis (Aloe Vera) Leaf Extract, Mangifera Indica, Butyrospermum Parkii (Shea) Butter, Tocopherol, Xylitol, Aroma (Flavor), Musa Sapientum (Banana) Fruit Extract, Stevia Rebaudiana Leaf/Stem Extract, Eugenol, Geraniol, Citronellol.
Editor's note: While the "Read the Label" series provides an overview of the ingredients cosmetic manufacturers use and their related claims, without use levels or access to clinical studies, the author is drawing conclusions based on speculation—albeit from training, formulating experience and, in some instances, evidence in the literature. The following is offered for your consideration and further verification.
Euphorbia Cerifera Cera (Candelilla Wax)
The candelilla plant is often found in desert-like climates, where it produces waxy leaves. The wax is collected and processed to create a dark yellow block that is often broken down into pellets of flakes for ease of handling. It has gained popularity as a vegan alternative to beeswax with its similar melting point (beeswax melts around 62-64°C and candelilla wax melts at 68.5-72.5°C). Due to the high melting point, it is used to provide firmness in this stick formulation. 
Cocos Nucifera (Coconut) Oil
Coconut oil is clear and colorless, and is one of the most popular emollients used in skin and hair care at the moment. It contains a high level of fatty acids to nourish the skin and is often solid at room temperature, which then melts upon contact with the skin. Coconut oils vary from different manufacturers but the virgin grade typically contains a pleasant coconut aroma, which for me resembles the holiday (vacation) sunscreen smell. 
Theobroma Cacao Seed (Cocoa) Butter

Cocoa butter, of course, comes from the cocoa bean and is a pale yellow fat that is often used in the production of chocolate. In its crude form, it contains a subtle cocoa aroma. It is often refined, bleached and deodorized (RBD) and commonly comes in the form of solid blocks. Cocoa butter has an ideal melting point between 34-38°C, which means it melts as soon as it comes into contact with the skin, usually 35°C externally. 
Prunus Avium (Cherry) Seed Oil
This is the cherry oil used within the product that is upcycled from the tinned (canned) cherry industry. The waste kernels are collected from the sweet cherries and pressed to release oil. This dark yellow oil has a high content of oleic and linoleic acid, ideal for improved skin moisturization.  
The leaves of Aloe vera are harvested and filleted, then the juice and minerals from inside the leaf are extracted. Aloe is well-known for its calming and hydrating properties, as well as adaptogenic benefits–it helps the body to resist stress. Aloe can be notoriously difficult to formulate with and from my own experience, it likes to turn formulas brown due to its high mineral content. A chelating agent is often necessary to prevent this.
Mangifera Indica (Mango) Seed Butter
The Mangifera indica tree is native to India. The mango kernels are pressed and the fat is extracted in the form of a pale yellow, semi-solid butter. It leaves the skin with a soft, non-greasy after-feel. The butter contains high levels of oleic acid, which absorbs into the skin to keep hydrated for long periods of time. 
Butyrospermum Parkii (Shea) Butter
The shea tree is native to Africa. It it produces small green shea fruit that can be eaten. Inside the fruit is the shea nut, which like most kinds of butter in this formula, contains high levels of oleic and stearic acid.
The levels of these two fatty acids change the physical properties of the butter; higher stearic acid levels can make the butter firmer. Depending on the area where the shea tree is grown, the fatty acid component can vary and the physical properties of the butter can differ. Shea butter is commonly used in intensive nourishing treatments for dry, cracked skin. 
Tocopherol
Vitamin E, or tocopherol, is a powerful antioxidant that combats free radicals and pollutants. Natural oils and butter tend to go rancid quickly, causing discoloration and malodor, so it is common to see antioxidants used in natural formulas to protect the ingredients.  
Xylitol
This is a clear, crystalline solid that is a sweet-tasting alternative to sugar. It is commonly used in toothpaste as it provides a pleasant flavor but causes fewer cavities. In lip balm, it is used to provide a sweet taste.
I have a drawer at home just for lip products (which is full, by the way) and as an avid user, I can pick out a good formula. I was concerned about this formula due to the high amount of natural ingredients–I tend to use a synthetic-based lip balm for better glide and pay-off. When I first tried the FRUU.. lip balm, there was some resistance in the application where I felt a slight drag but this soon loosened up and I received the correct pay-off.
Once the product had been rolled over the lips a couple of times, the pay-off was great and left a good layer of nourishing balm. The stick is a pale, yellow-colored wax (the brand claim to use no artificial colors) and leaves a translucent, matte appearance on the lips. The product smells great and tastes of delicious cherries. It soothes cracked, dry lips to soften and smooth the skin.
After wearing the product for several hours I noticed my lips were smooth, the appearance of dry skin had significantly diminished and there was still a gentle layer of product there, protecting my lips. I carried the lip balm in my pocket for a few hours and even though my body temperature had warmed the stick, it was still in a firm solid state, so once reapplied, it didn't soften and damage the product.   
I found this lip balm in a health store but it's also available online for £3, which I feel is an affordable price for all.
Source: FRU..

Disclaimer: This article was produced in the UK and therefore the INCI listing and INCI names comply with European labeling requirements.