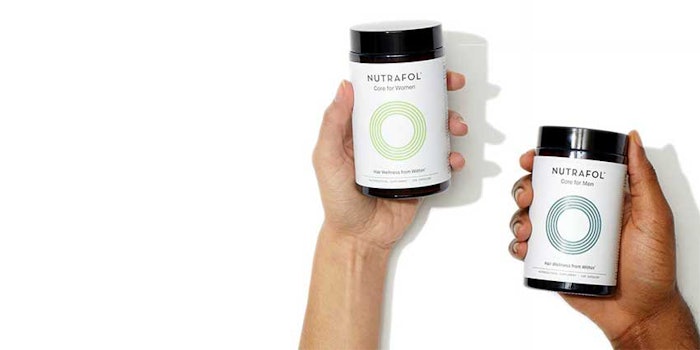 Nutrafol addresses hair thinning with a daily supplement that improves hair growth by targeting stress along with other root causes such as hormones, environmental toxins, metabolism and nutrition.
Related: Nutrafol Awarded Patent for Synergen Hair Loss Supplement
Upon recommendation by health care providers and over-the-counter, the supplements are available in three forms: Nutrafol Men, Nutrafol Women and Nutrafol Women's Balance.
Nutrafol Men targets hair growth, thickness and visible scalp coverage, which are improved in reportedly 3-6 months. Nutrafol Women was clinically shown to improve hair growth and strength with less shedding. Nutrafol Women's Balance also improves hair growth and thickness with less shedding and is targeted for women specifically going through menopause.
 
According to the company, Nutrafol also has been clinically shown to address stress as a key root cause of hair thinning. The hair growth supplement features brand ashwagandha, an adaptogen derived from a blend of both the leaves and roots of the Withania somnifera plant, which has been reportedly clinically shown to balance cortisol, which can be triggered by acute and chronic stress and signal hair follicles to shift from anagen to catagen prematurely.
Source: Nutrafol