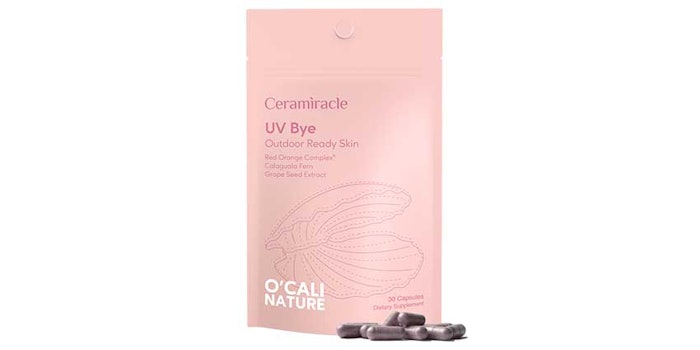 Ceramiracle has revealed UV Bye, a supplement that will allow consumers to enjoy the benefits of the sun while preventing harmful UV rays from the inside-out. 
Related: Vitis vinifera Leaf Extract Exhibits Epigenetic Protection In vitro
The product is designed to work in tandem with a daily sun care regimen to care for the skin and combat preexisting sun damage.
UV Bye incorporates whole food actives to lend to a holistic approach to beauty and wellness. The supplement capsules are formulated with Polypodium leucotomos, grape seed extract and the patented Red Orange Complex—a powdered extract derived from the peels and juice of Moro, Tarocco and Sanguinello blood oranges. Key ingredients include:
Polypodium leucotomos, also known as calaguala fern, which is reported to decrease UV-induced skin damage. It contains natural skin protecting properties as calaguala helps to reduce irritation in sunburn.
Grape seed extract contains proanthocyanidin, which has been reported to support healthy skin. According to the company, the ingredient has been clinically shown to reduce redness and damage to cells after UV exposure and to counteract skin hyperpigmentation.
Red Orange Complex is a patented complex of anthocyanins, hydroxycinnamic acid flavanones and ascorbic acid. It is derived from antioxidant-rich blood orange extract and reduces redness caused by UV radiation and counteracts skin hyperpigmentation.
The product contains 30 daily capsules and will retail for $22. When combined with sunscreen, UV Bye is positioned to help care for skin from within.
Ingredients: Calaguala (Polypodium leucotomos) Root/Stem Extract, Citrus Sinensis Fruit Extract (Red Orange Complex), Grape Seed (Vitis vinifera) Seed Extract, Rice Powder, Hydroxypropyl Methylcellulose, Magnesium Stearate, Silicon Dioxide.