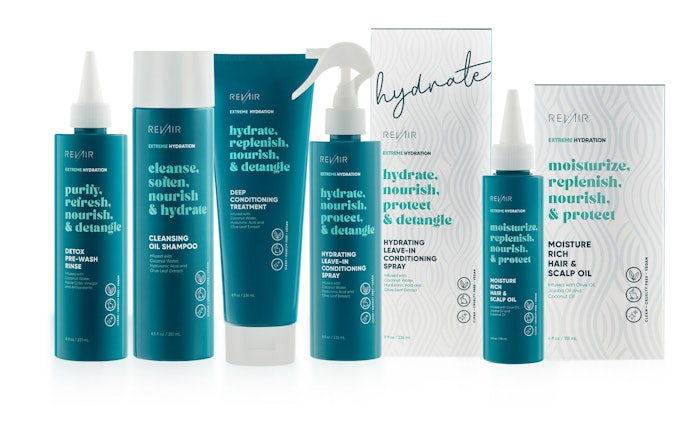 RevAir is entering the hair care category with the launch of its two lines Extreme Hydration and Boost Fullness.
Extreme Hydration 
The Extreme Hydration line is formulated to provide hydration and nourishment for visibly healthy and manageable curly and coily hair without weighing it down.
The five-product collection is infused with coconut water, hyaluronic acid and olive leaf extract.
Detox Pre-Wash Rinse
Cleansing Oil Shampoo
Deep Conditioning Treatment
Hydrating Leave-In Conditioning Spray
Moisture Rich Hair Scalp Oil
Boost Fullness
The Boost Fullness line is designed to restore hair and create an optimal environment for growth and density.
The three-product line is enriched with biotin, turmeric extract and natural antioxidants. 
Revitalizing Shampoo
Rejuvenating Conditioner
Nourishing Scalp Hair Conditioning Leave-In Treatment
Extreme Hydration and Boost Fullness are available at myrevair.com.
Scott Thomason, founder and CEO at RevAir, said, "At RevAir, we believe that hair care should be empowering, not burdensome. Our commitment to meeting the needs of our customers by delivering innovative, disruptive and life-changing products has led us to introduce Extreme Hydration and Boost Fullness, which will revolutionize how people care for their hair."