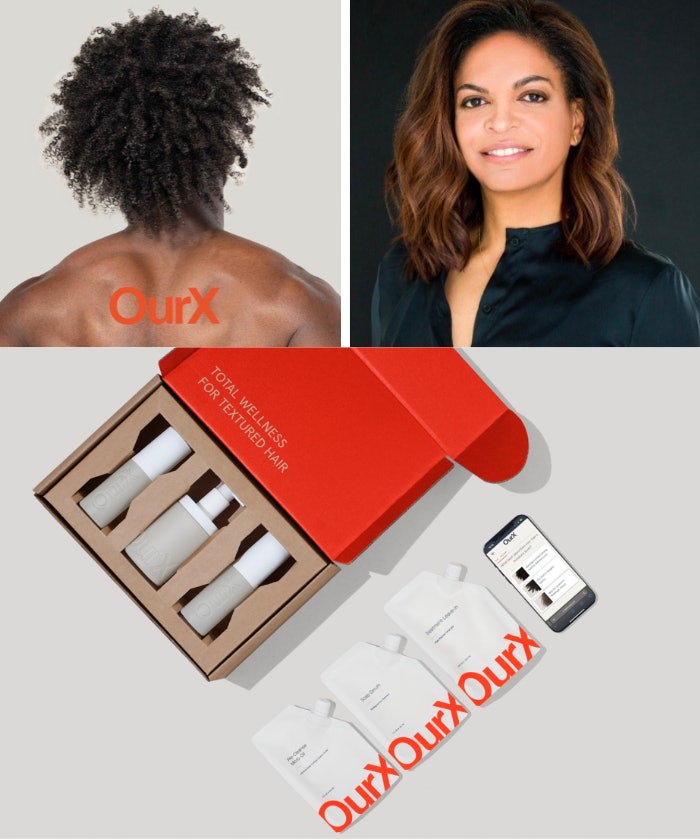 OurX has debuted its platform for textured hair, offering an individualized system of personalized regimens, one-on-one hair coaching, education and community support.
BIPOC investor, entrepreneur and board member (Revlon) Ceci Kurzman founded OurX in response to the lack of investment in, innovation for, and data about textured hair.
OurX CEO Meghan Maupin will be speaking at Beauty Accelerate Virtual during the session, "Investment-worthy Beauty," describing what's making investors optimistic and sharing keys to brand success, from distribution to product innovation to marketing and consumer engagement and beyond.
Users will access OurX initially through its web-based app on ourx.co, and go through an in-depth assessment which collects data on everything from their hair and scalp attributes to their lifestyle and preferences.
The assessment includes a series of at-home hair health tests and personalized education that is responsive to the user's inputs. The analysis of this data, combined with the input of trained hair experts, provide consumers with a daily regimen and insights on how to achieve their optimal hair health.
The regimens include a curation of high-performance treatment-based products developed by OurX.
Product Collection:
Pre-Cleanse Micro Oil: An oil-based pre-cleanse that detoxifies and strips build up and debris from scalp while nourishing the hair with omega fatty acids and antioxidants.
Nutrient Cleanse Complex: A high dose of moisture with cleansing benefits. Formulated to replenish moisture, balance scalp and prep hair to receive better moisture penetration and longer- lasting styling.
Detox Cleanse Complex: A gentle exfoliating shampoo that effectively removes build up from the scalp and hair that leads to unbalanced congestion. This Detox Cleansing shampoo is formulated with glycolic acid, salicylic acid to unclog pores in the scalp and features anti-inflammatory polysaccharides to reduce scalp stress for a clear scalp and rebalanced hair.
Scalp Serum: A soothing scalp balm formulated to penetrate the scalp without residue left behind. Can be used on wet or dry hair as a scalp reset.
Scalp Purifying Solution: A gentle exfoliating scalp tonic that effectively removes build up from the scalp with chemical exfoliants, micellar water and balancing symbiotics to nourish and treat scalp. Can be used as a purifying step with shampoo or in-between washes as a scalp refresh.
Intensive Conditioning Compound: A deeply penetrating moisture mask formulated with humectants, occlusives and emollients to absorb and retain long lasting moisture to the strands while increasing hair flexibility, overall health and longevity.
Treatment Leave-In: A lightweight cream leave-in conditioner formulated to provide long-lasting moisture retention without residue for effortless styling. Formulated with heat protection to preserve shine and natural color against thermal heat and environmental factors.
Kurzman said, "Presently hair care remains segregated in the beauty and personal care industry, with solutions for those with textured hair remaining separate and unequal. While celebrating the many powerful brands already shaping this category, OurX endeavors to change the conversation with proven data that combats an oversimplified, one-size-fits-all view of the textured hair consumer."