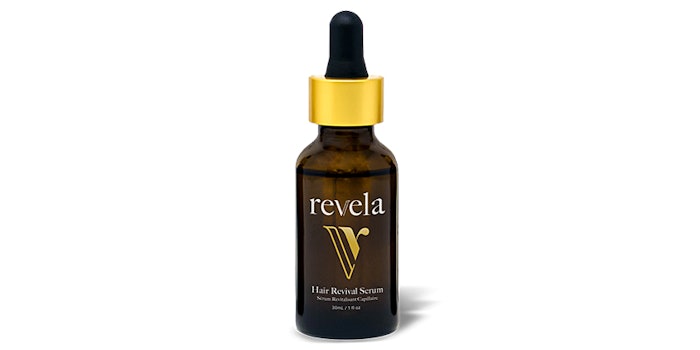 According to the inventors of Revela Hair Revival Serum, most beauty products are developed based on different combinations of the same pre-existing ingredients, while more than three billion safe and synthesizable chemical molecules are available for discovery and application. The company therefore applied an advanced discovery process and successfully identified a molecular combination to star in its hair and eyebrow revival serums.
As the company explains, the process comprises proprietary biosensors and assays to probe biological models. The data gathered is then used to train AI models to predict new, safe synthetic compounds that enhance human health. These compounds are validated in biological models (e.g., organoids, ex-vivo) to ensure that they are safe and efficacious. According to the company's white paper, the researchers focused on ingredients that could increase cell proliferation in the DP. 
See related: Through the Years; 5 Stages of Aging in Hair
This process led to the development of ProCelinyl, a patent-pending molecule composed of natural components from mushrooms and mustard plants, which reportedly targets the dermal papilla (DP) in hair follicles to boost daily growth by 50% and supports hair and follicle health more consistently than other ingredients on the market. In addition to this ingredient, Revela's Hair Revival Serum includes aloe vera, caffeine and vitamin E to support overall hair growth and scalp health. It is suitable for color-treated, keratin-treated, chemically treated or relaxed hair. In a six-week clinical trial, 97% of women saw improvements in their hair.
"At Revela, we begin our process by challenging the status quo to see where you can improve," states co-founder Evan Zhao, Ph.D., a synthetic biologist and chemical engineer. "Using AI, we lead the discovery of completely new ingredients to offer products with real, targeted results. Our technology allows us to scan the library of 3 billion molecules and create a shortlist of ingredients with the highest potential of being the perfect solution with no trial and error involved."
See related: Expert Opinions; Restoring and Reviving Hair
"The reason we can provide products with this level of efficacy is because this technology didn't exist before," adds co-founder David Zhang, Ph.D., an immunologist and bioengineer. "We work and re-work until our ingredients provide an answer to the issue at hand. No compromising."
The Revela Hair Revival Serum retails for US $98 (for 30 mL) or $78 for a monthly subscription; the Revela Eyebrow Serum retails for $88 (5 mL) for a 4-6 month supply.
Ingredients (Hair Revival Serum):  Aqua (Deionized Water), Denatured Ethanol, Propylene Glycol, Glycerin, Zemea (Corn) Propanediol, Aloe Barbadensis Leaf Juice, Caffeine, Serenoa Serrulata (Saw Palmetto) Extract, Pyrus Malus (Green Apple) Extract, Niacin, L-Lysine, ProCelinyl, Biotin, L-Methionine, Inositol, Thiamine HCI (Vitamin B1), Xanthan Gum, Phenoxyethanol, Ethylhexylglycerin, Pantothenic Acid (Vitamin B5).