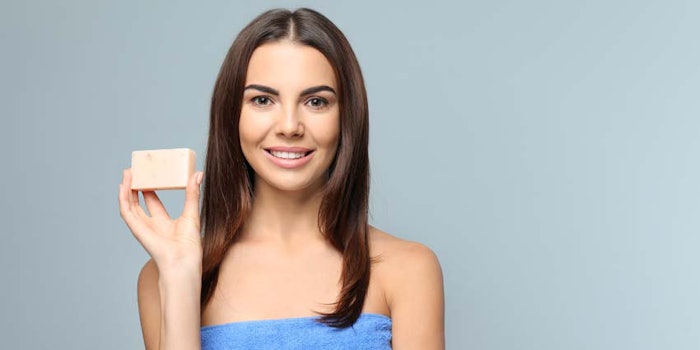 This editor's pick from Innospec aligns with the current trend for waterless and water-efficient formulas. The hair conditioning bar features Innospec's Laurex CS (INCI: Cetearyl Alcohol) and Dimethisil HNH-LV (INCI: Propoxytetramethyl Piperidinyl Dimethicone) ingredients.
Laurex CS is a plasticizer and texturizing agent. This primary fatty alcohol also helps to give a controlled release of active ingredients and perfumes. Dimethisil HNH-LV is a low viscosity functionalized dimethyl fluid made using hindered amine. According to the company, the introduction of amine functionality into a dimethyl silicone creates a cationic, substantive raw material. This modification enhances the molecules' ability to form ionic bonds with keratinaceous substrates.
See related: Beauty Kitchen Goes Plastic-free with Hair Care Bars
The resulting solid hair conditioner bar is highlighted for on-the-go travel to replace large plastic bottles of liquid hair conditioner. It reportedly is easy to use simply by running the bar through wet hair and rinsing.
Hair Conditioner Bar
A.
Cetearyl Alcohol (Laurex CS, Innospec)
63.50% w/w
Behentrimonium Methosulfate (and) Cetearyl Alcohol (BTMS 225KC, Chemtec)
25.00
Behentrimonium Chloride (BTAC 228KC, Chemtec)
5.00
B.
Butyrospermum Parkii (Shea) Butter
2.00
Theobromo Cacao (Cocoa) Seed Butter
2.00
C.
Propoxytetramethyl Piperidinyl Dimethicone (Dimethisil HNH-LV, Innospec)
1.50