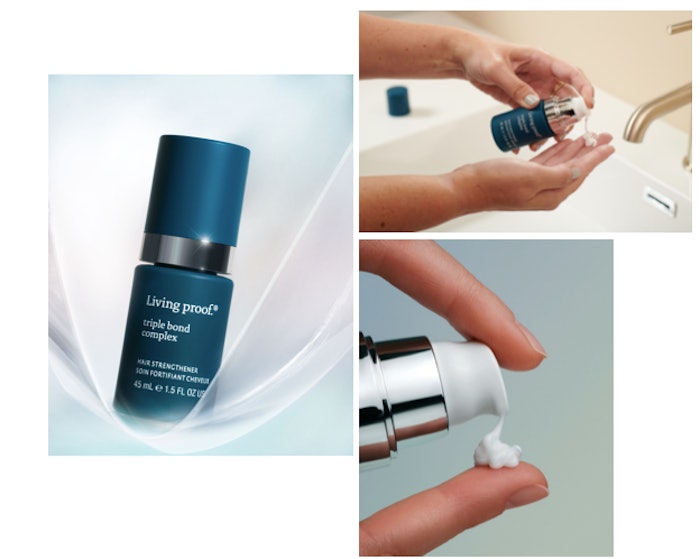 Science-backed, solution-based hair care brand Living Proof has launched its first bond-building innovation: Triple Bond Complex.
Living Proof set out to solve the problem of damaged hair by incorporating into a product a patented system that is clinically proven to strengthen and protect hair; reportedly with 8x stronger, softer, smoother, more manageable results. The innovation also makes hair more resistant to future damage after just one use, the company reports.
Instead of concealing damage, the leave-in treatment is said to instantly rebuild and improve the structural integrity of hair, working from the inner cortex to the outer cuticle.
The technology used in Triple Bond Complex constructs a 3D network within the hair fiber, helping rebuild the structure and resist damage while a blend of lipids and peptides deeply nourishes strands, helping defend hair against thermal and UV damage and color fading. In addition, a biomimetic emollient blend smooths and aligns hair fibers, enhancing softness and shine. A cuticle sealing agent smooths the surface of hair and makes hair more manageable. 
Related : Living Proof Recruits Lily Collins for Science-forward Campaign
Additional Benefits:
Builds all three types of bonds in the hair: hydrogen, ionic and covalent;
Repairs hair from chemical, thermal, mechanical and environmental damage  and protects hair against future damage;  
Offers heat protection (up to 450°F/232°C);
Prevents breakage and reduces visible signs of split ends ;
Delivers long-lasting results that do not wash away with shampoo ; and 
Easily added to post-shower routines (after shampoo and conditioner).
Triple Bond Complex is available online now and will be available in stores on Sept. 11, 2022.