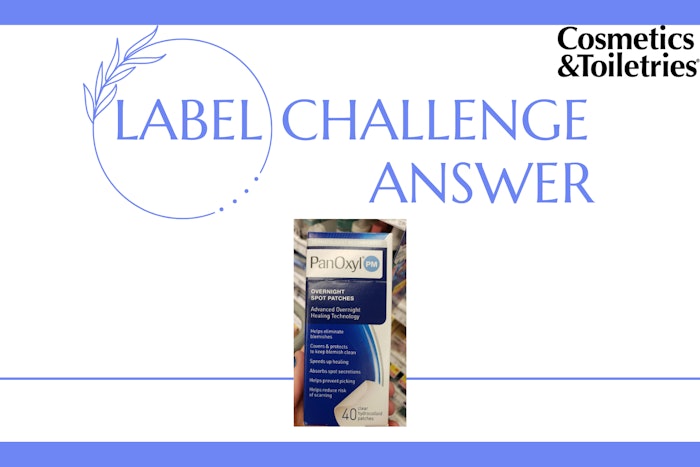 Did this week's Label Challenge test your formulating skills? How'd you do?
Each Monday, we post a product ingredient disclosure to our social media pages (LinkedIn, Facebook and Instagram) and you guess the product/product type in the comments. Answers are published here and shared through our Friday newsletters — and include a shoutout to the winners.
See last week's Label Challenge Answer: Glow Baby Eye Bright Cream with Vitamin C
Answer: PanOxyl PM Overnight Spot Patches
PanOxyl PM Overnight Spot Patches help eliminate blemishes by absorbing pus and fluids for faster healing. These latex-free hydrocolloid patches are safe for all skin types and designed to help protect skin, heal spots and prevent picking, which can lead to scarring.
Ingredients: 
Hydrocolloid dressing
Winners
LinkedIn's winner is Princess-Ann George-Ezuma, who guessed the correct product type first; Instagram's winner this week is dropdeadaj, who guess the correct product type first.
Thank you all for playing! Check back on Monday for next week's Label Challenge!