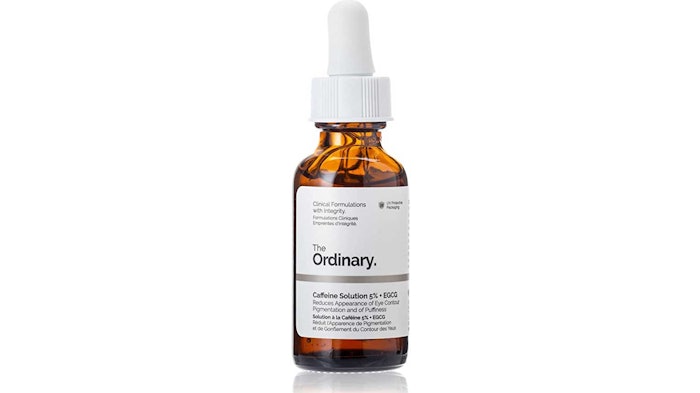 Amazon.com
Editor's note: While the "Read the Label" series provides an overview of the ingredients cosmetic manufacturers use and their related claims, without use levels or access to clinical studies, the author is drawing conclusions based on speculation—albeit from training, formulating experience and, in some instances, evidence in the literature. The following is offered for your consideration and further verification.
In 2013, Toronto-based Brandon Truaxe founded DECIEM—the abnormal beauty company. DECIEM became the umbrella company of disruptive beauty brands such as The Ordinary, NIOD, Hyalmide, etc., where Truaxe's vision was to create exceptional quality products with high levels of active ingredients.
The Ordinary became the biggest brand under the DECIEM group, selling more than one product per second and employing over one thousand individuals at close to forty stores around the globe. In 2018, sales were reported to be £228 million, and leading celebrities such as Kim Kardashian posted on their social media platforms expressing their fondness of the products (such as The Ordinary Granactive Retinoid serum).
Related:  Read the Label; Depixym's Cosmetic Emulsion
Grounded in Science
In 2021, DECIEM ran a bold campaign to bring awareness to consumers, titled "Everything is Chemicals." This addressed "chem-phobia" and outlined that even products that claim "clean beauty" use ingredients that are indeed still chemicals—and they are not something that consumers should fear.
The Ordinary is a highly scientific brand with most of its products being named after active ingredients, such as "Ascorbyl Tetraisopalmitate Solution 20% in Vitamin F." This type of scientific branding and marketing has created a new type of consumer: one who researches materials and wants to understand the science within a product.
In 2019, Truaxe passed away at the age of 40; the company is part owned by The Estée Lauder Cos., which is continuing his legacy.
Psychodermatology and Tired Skin
This "Read the Label" looks at psychodermatology, with a focus on tired skin. The product under review is The Ordinary's Caffeine Solution 5% + EGCG.
The claims behind this product include a reduction of eye contour pigmentation and of puffiness. The product is a water-based eye serum with a high percentage of caffeine and epigallocatechin gallatyl glucoside (EGCG). These two active ingredients work in synergy to reduce dark circles and smooth under-eye bags.
To use the product, consumers massage a small amount onto the eye area in the morning and at night.
See related: Ingredient Profile; Resveratrol
The bolded ingredients are those the author believes are contributing to the product's performance and claims: 
Ingredients: Water (Aqua), Caffeine, Maltodextrin, Glycerin, Propanediol, Epigallocatechin Gallatyl Glucoside, Gallyl Glucoside, Hyaluronic Acid, Oxidized Glutathione, Melanin, Glycine Soja (Soybean) Seed Extract, Pentylene Glycol, Hydroxyethylcellulose, Polyacrylate Crosspolymer-6, Xanthan Gum, Lactic Acid, Dehydroacetic Acid, Trisodium Ethylenediamine Disuccinate, Propyl Gallate, Dimethyl Isosorbide, Benzyl Alcohol, 1,2-Hexanediol, Ethylhexylglycerin, Phenoxyethanol, Caprylyl Glycol.
Caffeine
Caffeine has a methylxanthine structure that effects the central nervous system as a psychostimulant. Caffeine has a small molecular weight (approx. 194.19 Daltons) and according to J.D. Bos's 500 Dalton theory, anything below this weight should easily penetrate into the skin. Due to this, caffeine is often selected as an active ingredient drug in pharmaceutical studies when measuring the release of it through a formulation such as a skin cream, and into the skin. In cosmetics, caffeine has anti-cellulite properties as well as hair follicle stimulation, but it is mostly used due to its energizing effects to increase blood flow to reduce puffiness and to brighten dark circles.
Propanediol
Usually derived from corn, this is a natural, vegan, colorless solvent. Propanediol is a humectant that draws moisture into the skin. It has preservation-boosting properties, which means in some cases, it can lower the percentage of preservative used in products while still achieving safe challenge test results. Propanediol also supports additional moisturization and reduced TEWL.
EGCG, Gallyl Glucoside,
Propyl Gallate
EGCG (derived from green tea leaves) blended with gallyl glucoside and propyl gallate creates a powerful synergy that works to effectively reduce dark circles. Propyl gallate is a well-known lipoxygenase inhibitor and antioxidant, whereas the gallic acid in the other molecules inhibits histamine release. Thus, this combination results in a strong anti-inflammatory and antioxidant blend that increases lymph circulation, increases blood flow under the eye and lessons blood leakage, improving the appearance of under-eye circles. EGCG is sensitive to light so must be protected in UV-protective packaging.
Hyaluronic Acid
This polysaccharide molecule makes up a key component of the connective tissue present in the body. The INCI name alone does not dictate what the molecular weight of this ingredient is, as it's just a general term used. HA acts like a sponge in our bodies and it binds to water to create plump skin—it can take up 1,000 times its weight in water from 5-12 hours, and it helps to moisturize and plump the skin, as well as leave a soft, silk-like after-feel.
Oxidized Glutathione
This antioxidant possesses brightening effects in the skin to reduce dark patches. It also smooths the skin.
Melanin
Melanin is a brown pigment produced in the skin and is the body's natural defense against UV light. Melanin exists in nature, too, and quite often vegetable melanin is used. Although melanin is not listed as a legal sun filter, it does have weak sun protection effects, so can help to protect the skin against UV light as well as provide antioxidant benefits to reduce free radical damage.
Trisodium Ethylenediamine Disuccinate
This biodegradable chelating agent helps to keep products stable. Metal ions (e.g., minerals such as Fe or Cu) within water or within other raw materials are sometimes present in small amounts in formulations and can react with oxygen in the air to form discoloration, amongst other undesirable effects. This chelating agent will bind to the metal ions and prevent these from oxidizing, keeping the product stable over time.
Dimethyl Isosorbide (DMI)
Finally, this sugar-based solvent is an exceptional penetration enhancer. DMI is unique in that it is both oil and water soluble and it stabilizes active ingredients for optimal performance when they reach the skin. DMI is non-irritating to the skin and eyes and can be used in both pharmaceutical and cosmetic products to boost performance.
The Ordinary's Caffeine Solution 5% + EGCG is available online for £6.40 for 30 mL ($7.50 for 1 fl. oz).