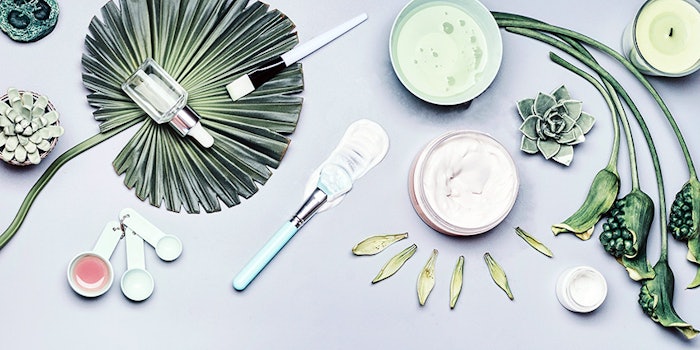 Green beauty flat lay
Sensory innovation was in sight for Elementis this spring.
At in-cosmetics Global, the company debuted three additions to its ingredient portfolio that spanned rheology modifiers and natural talc; one of these new ingredient ranges was put to use in a line of sensorial skin care formulations.
New Ingredients
Bentone Luxe WN—This vegan rheology modifier and emulsifier enables stable emulsions with a variety of textures. The ingredient reportedly imparts a light feel and helps create a quick break sensation. Bentone Luxe WN was shortlisted for in the Innovation Zone - Functional Ingredients category for the 2019 in-cosmetics Global awards. (INCI: Caprylic/Capric Triglyceride (and) Stearalkonium Hectorite (and) Polyglycerol-3 Diisostearate (and) Polyglycerol-3 Polyricinoleate)
Mondana talc—A clean, natural talc option, recently added to Elementis' portfolio. (INCI: Not Available)
Bentone Hydroclay—A range of naturally sourced and clay-based water-phase rheology modifiers that can thicken water while creating a silky texture. They are also meant to provide thixotropy and suspension control in the aqueous phase. (INCI: Varies)
The company also showed its Bentone Gel dispersions; Rheoluxe line of thickeners; meadowfoam-based botanical, including its moisturizing Meadowestolide and Meadowfoam Seed Oil; and high-performance antiperspirant actives, including AACH-7172, Ultra Zag A77 and Ultra Zag 88L.
Sensorial Formulations
Bentone Hydroclay was the basis of four formulations at the Sensory Bar; these include:
Glow Anywhere Mousse—This bouncy mousse is reportedly soft and leaves a golden glow behind on skin.
Cleansing Cherry Jam—With a jam-like texture and velvety skin feel, this cleanser is natural and sulfate-free.
Warm Apple Taffy—This mask has a taffy-like texture, which warms upon application to leave skin reportedly feeling clean and moisturized.
Cloud Water—Inspired by micellar water, this cleanser is meant to evoke images of puffy clouds in the sky.
in-cosmetics Global took place in Paris, April 2-4, 2019.
[update] Elementis will showcase their ingredients and formulations at NYSCC Suppliers' Day with the theme "Enhanced Performance through Applied Innovation."
"... This New York Suppliers' Day event is one of many major conferences that provide a perfect platform for our applications team members to demonstrate several new formulations. These formulations serve as excellent examples of how our new products can be incorporated to create unique textures and superior sensory experiences. Our new products also add value because of their stability and ease of use," commented Kathleen Benditt, global marketing director, Elementis Personal Care Business Segment.
Elementis can be visited at booth 1011 at NYSCC Suppliers' Day, held May 7-8, 2019, in New York.