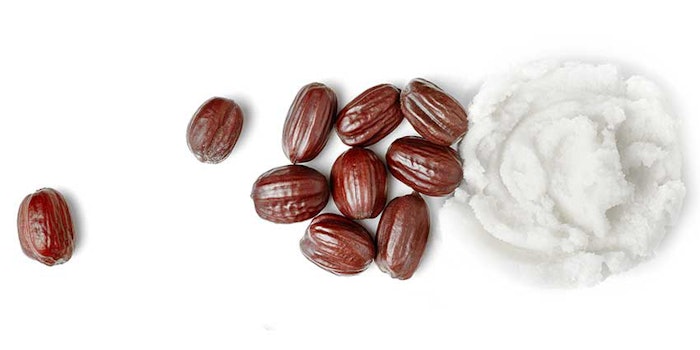 Vantage Specialty Ingredients
Vantage has expanded its range of jojoba esters with Liponate Jojoba 20 (INCI: Jojoba Esters), a jojoba-derived emollient for vegan formulations that offers a high level of traceability and naturality.
Related: Formulating on Trend: No-foam Facial Cleanser
Liponate Jojoba 20 is an oil-free emollient that changes the sensorial profile of formulations to add softness, spreadability and a subtle thickness, resulting in a melting sensation upon application.
According to the company, the multifunctional ingredient has been substantiated to help protect sensitive skin and damaged hair. When tested on damaged skin, the active restored hydration levels in 4 hr. Additional testing on the reduction of transepidermal water loss and skin redness further confirmed the relevance of the active for companies designing formulations for consumers with sensitive skin.
Liponate Jojoba 20 is COSMOS-certified and 100% traceable due to the company's sustainable manufacturing. The jojoba oil is extracted and transformed following a proprietary esterification process that meets the criteria of green chemistry. This complete control of the transformation chain of jojoba oil, from harvest to quality control, leads to quality jojoba esters. The company was also recently awarded Gold status by Ecovadis, as it addresses customer demand for natural ingredients with traceability and supply security.
For more information, contact Vantage Specialty Ingredients.