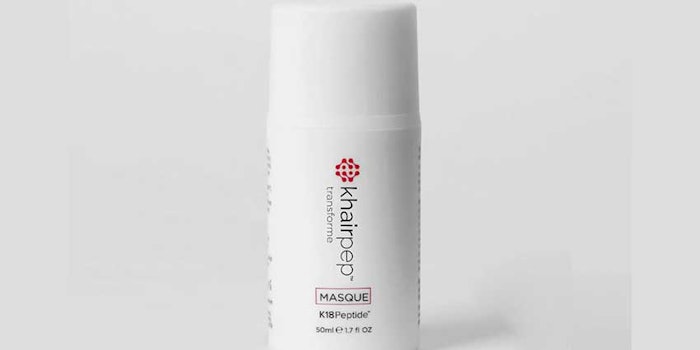 KHairPep has introduced another hair care product, KHairPep K18Peptide Masque. According to the company, this intensive and restorative treatment repairs, strengthens and improves the elasticity of hair within 4 min. It also retains the hair's natural luster, reduces breakage and protects the hair for long-lasting color.
Related: ApHogee's Two-step Treatment Repairs Hair
According to the company, the product reverses damage and strengthens hair with its patented K18Peptide, which is designed to penetrate the hair cortex and carry with it the necessary chain of amino acids to interact with internal disulfide bonds. This is said to repair keratin to its healthiest state and restore natural, youthful elasticity to hair.
Notably, the mask was not formulated to work as a regular conditioner. Some consumers find that it provides adequate softening and smoothing properties but others may prefer enhanced conditioning by adding a leave-in conditioner after the 4 min processing time. Due to its unique formulation, the product is recommended to be applied after hair is washed as usual and towel-dried thoroughly—skipping the conditioning step and instead working the mask evenly into the hair from the ends to the roots. After allowing it to work for 4 min, the product is left in the hair, which can be styled as usual.
Ingredients (K18Peptide Masque): Water (Aqua), Alcohol Denat., Propylene Glycol, Dicaprylyl Ether, Cetearyl Alcohol, Cetyl Esters, Behentrimonium Chloride, Polysorbate 20, Isopropyl Alcohol, Hydrolyzed Wheat Protein, Hydrolyzed Wheat Starch, sh-Oligopeptide-78, Phenoxyethanol, Potassium Sorbate, Fragrance (Parfum), Hexyl Cinnamal, Linalool, Butylphenyl Methylpropional, Geraniol, Benzyl Alcohol.