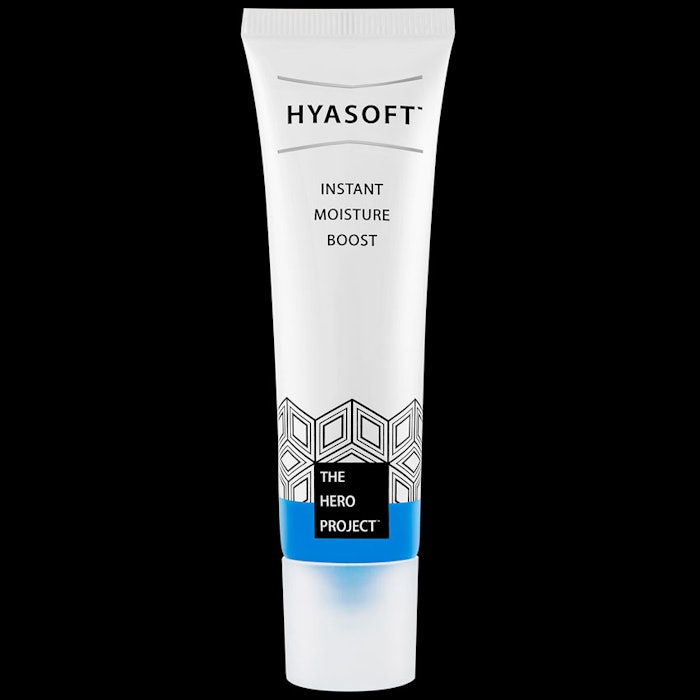 The Hero Project's Hyasoft brand Instant Moisture Boost provides hydration for ever-changing weather conditions. This product is a mass-market offering of Pangaea Laboratories, Ltd., whose professional skin care sister brand is the previously covered Medik8. The moisturizer claims to combat dryness and eliminate dull skin. It is an oil-free, ultra-lightweight treatment said to quench dehydrated and fatigued skin with an intensive dose of hydration for use alone or with another moisturizer.
The formula is described as a non-sticky, clear gel that instantly absorbs into the skin and is fortified with a blend of "multi-molecular" hyaluronic acid and panthenol (vitamin B5). This blend aims to seal in moisture both at the surface and deeper levels of skin, "for a refreshed and plumper-looking complexion that radiates an aura of health."
Recommended for tired, sensitive and stressed skin, this self-proclaimed "pick-me-up powerhouse moisturizer" is designed to leave skin feeling springy, nourished and revitalized. The formula is free from parabens, sulfates, alcohol and mineral oil; it is also vegetarian and vegan friendly and non-comedogenic.
According to the manufacturer, users should apply a "10 pence" coin-sized amount to the clean face, neck and upper chest areas, then gently sweep over the skin, avoiding the delicate eye area. This column will review the ingredient listing for claims substantiation and functionality.
Skin Conditioners 
The water-based formula contains moisturizing agents, primarily: the humectant macromolecule of sodium hyaluronate and panthenol (see Pantothenic Power, from previous column); and vitamin B5, a skin softening and soothing active ingredient.
Research has shown panthenol, in different concentrations, has a beneficial effect on skin irritated by washing with a harsh surfactant. Indeed, it facilitates a significant and rapid improvement in skin barrier function, compared with a control and vehicle.
As such, panthenol in concentrations above 1.0% in any formula may have a protective effect on skin barrier function. Another study reported a panthenol-based formula to have a favorable and lasting effect on barrier function, repair and skin hydration without negatively affecting bacterial flora.
Calcium pantothenate is a salt of pantothenic acid (vitamin B5), which is effective in wound healing. In vitro studies suggest it positively influences the migration and proliferation of fibroblasts. 
Finally, sodium hyaluronate, the sodium salt of hyaluronic acid, is a naturally occurring polysaccharide in connective tissues. It has excellent water-holding properties and serves as a humectant and skin-conditioning agent.
Additional Ingredients
Additional ingredients in this formula include acrylates/C10-30 alkyl acrylate crosspolymer, an emulsion stabilizer and viscosity increasing agent. Ethylhexylglycerin acts as a weak preservative and skin-conditioning agent.
The product is preserved by phenoxyethanol. Sodium hydroxide is a buffering agent, used to adjust the pH of the formula.
Conclusions
In my view, the hydrating claims are likely to deliver; however, this is a simple formula and to some consumers, could lack product aesthetics, e.g., it may feel slightly tacky upon application. Also, although the product (accurately) claims to be free from parabens, it is preserved.
Ingredients: Water (aqua), Sodium Hyaluronate, Panthenol, Acrylates/C10-30 Alkyl Acrylate Crosspolymer, Ethylhexylglycerin, Phenoxyethanol, Sodium Hydroxide