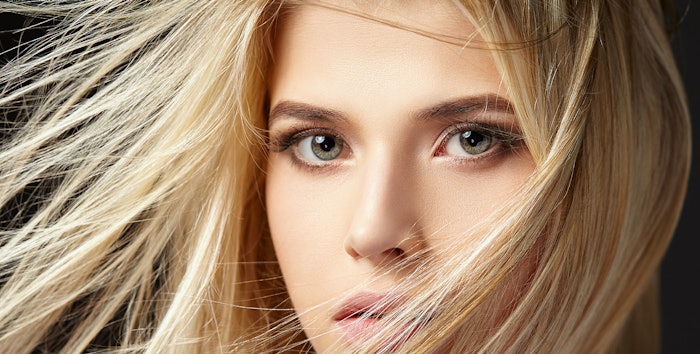 Image source: Actera Ingredients
Actera Ingredients highlights a retinoid for cosmetics, Adapinoid (INCI: Oleyl Adapalate), and a bonding agent for hair repair, TeraBond (INCI: Aspergillus Ferment (and) Arginine).
Related: Actera Addresses Aging with TeraCeutic Actives and TeraWater
Adapinoid
Adapinoid is a third-generation retinoid acting as a precursor of adapalene, which is reportedly proven to increase collagen, reduce photoaging and clear acne-prone skin.
Compared with first-generation retinoids such as vitamin A types like retinol and retinoic acid, Adapinoid is said to have far fewer toxicity concerns. Other benefits include:
Oil-Soluble: Easy to formulate without ethanol or solvents;
Stable: No need for airless packaging and filling; and
Accepted by dermatologists and consumers without the regulatory nuances of an active pharmaceutical ingredient (API).
In a 24-day clinical study, the granular layer and density of collagen in UV-aged skin treated with Adapinoid reportedly increased more than treatment with retinoic acid.
Additionally, treatment with photoaged skin in a 6-month study showed the active significantly decreased the majority of facial wrinkles such as crow's feet, forehead wrinkles and perioral wrinkles.
TeraBond
TeraBond is described as a reactive system that covalently bonds to amino acids and keratin fragments including broken disulfide linkages in human hair, and is a natural Plex bond multiplier.
According to the company, other Plex technology uses controversial ethoxylated chemicals that may contain 1,4-dioxane but TeraBond does not. It is 100% natural, safe and renewable.
The product can be used in hair treatments where developers and neutralizers (peroxides or enzyme oxidizers) also are used, such as:
Bleaching, balayage and highlights;

Demi and permanent color; and

Perms or hair relaxer treatments.
TeraBond also repairs hair in formulas for at-home use. It can be added to conditioner and leave-in treatments to restore hair without quats or silicones.
Previously: Actera Presents Natural Powder, Solubilizer, Gellant and Texturizer Ingredients
Other benefits of using TeraBond in salon formulations include:
Reduces client and stylist exposure to chemicals;

Repairs hair to the same standard as leading Plex products;

Increases sheen and strength;

Repels moisture and

Reduces breakage.
According to the company, the formula studied with TeraBond was found to be 12× more concentrated than Olaplex Step 1.
In a clinical study, virgin black hair tresses were repeatedly bleached five times with 40 vol. developer, followed by extreme two-hour bleaching. A trained panel evaluated the untreated, TeraBond- and Olaplex-treated tresses. TeraBond was found to outperform the Olaplex-treated tresses in ease of combing; breakage with combing; natural fiber wave; and smoothness.