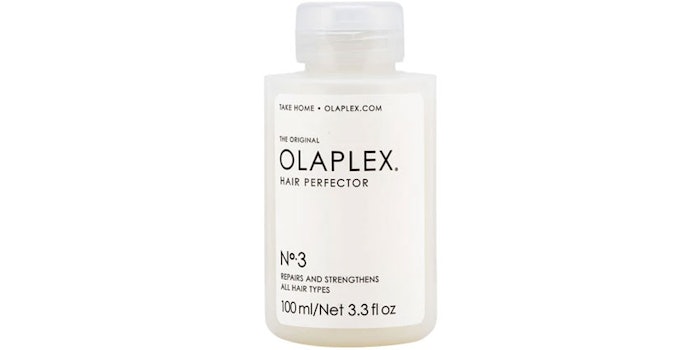 Hair repair is the subject of this Read the Label column, with particular focus on the Olaplex product "No. 3 Hair Perfector."
Olaplex launched a patented formula to repair hair damage that claims to restore broken di-sulfide bonds within hair. Olaplex, as a brand, has many products but the three main ones include:
Olaplex No. 1 Bond Multiplier. This product contains four ingredients: water (aqua), bis-aminopropyl diglycol dimaleate, phenoxyethanol and sodium benzoate. It is a highly concentrated liquid for professional use only that is often mixed directly into peroxide and then applied to the hair when coloring it. Adding Olaplex No.1 to the peroxide is said to significantly reduce the damage caused in the hair.    
Olaplex No. 2 Bond Perfector. This product contains the same active ingredient, bis-aminopropyl diglycol dimaleate, but also contains many conditioning agents. This No. 2 product is designed to be applied on the hair after the dyeing stage and left on for 10 min as a final salon treatment, to repair di-sulfide bonds that were missed during the first treatment.
Olaplex No. 3 Hair Perfector. This is a take-home product that the end consumer can purchase and apply themselves. It has a very similar ingredient listing to the No. 2 salon product but I would assume it contains less active ingredient.
Focusing specifically on the No. 3 Hair Perfector, Olaplex claims this product is a treatment (not a conditioner) that reduces breakage, visibly strengthens the hair and improves its look and feel. The instructions for use include applying a generous amount of Hair Perfector No. 3 to unwashed, towel-dried hair from the roots of hair down to the ends. The product should then be combed through and left on for a minimum of 10 min or more. The next step involves rinsing the product from the hair with water, then shampooing and conditioning as normal.
I have reviewed the No. 3 Hair Perfector INCI listing and have highlighted some ingredients I believe are key within the formula:
Ingredients: Water (Aqua), Bis-Aminopropyl Diglycol Dimaleate, Propylene Glycol, Cetearyl Alcohol, Behentrimonium Methosulfate, Cetyl Alcohol, Phenoxyethanol, Glycerin, Hydroxyethyl Ethylcellulose, Stearamidopropyl Dimethylamine, Quaternium-91, Sodium Benzoate, Cetrimonium Methosulfate, Cetrimonium Chloride, Fragrance (Parfum), Polyquaternium-37, Tetrasodium EDTA, Butylphenyl Methylpropional*, Etidronic Acid, Ascorbic Acid, Phytantriol, Tocopheryl Acetate, Aloe Barbadensis Leaf Juice, Panthenol, Simmondsia Chinensis (Jojoba) Seed Oil, Citric Acid, Potassium Sorbate.
*Note this ingredient has been removed as of January 2022; it is now banned in the EU and is expected to be in Great Britain
Editor's note: This column reviews the ingredient listings on products for claims substant­­­iation and function­­­ality. In addition, the product was tested personally by the author; she offers the below insights. While the "Read the Label" series provides an overview of the ingredients cosmetic manufacturers use and their related claims, without use levels or access to clinical studies, the author is drawing conclusions based on speculation—albeit from training, formulating experience and, in some instances, evidence in the literature. The following is offered for your consideration and further verification.
Bis-Aminopropyl Diglycol Dimaleate
This is the main active ingredient within the formula. I know this because it is used in the Olaplex No.1 treatment product, along with water and preservatives, which will not contribute to hair repair (although I cannot be certain of this, as the formula is patented). Amine structures are commonly used in rinse-off hair care due to their cationic charge, which attracts to the anionic hair shaft. This means that amine structures ionically bond to the hair and stay there, even after rinsing, resulting in a long-lasting conditioning effect.
Propylene Glycol
The high level of propylene glycol indicates there may have been difficulty in solubilizing the multitude of conditioning agents used within this formula. Propylene glycol works efficiently as a solubilizer when materials will not dissolve into a formula. It is a clear, slightly viscous liquid and it generally comes from petrochemical origin, although there are natural versions available with the slightly different INCI name of Propanediol.
Behentrimonium Methosulfate

This ingredient is a quaternary amine structured conditioning agent. It also provides the hair with anti-static properties, leaving it smooth and defined. 
Propylene glycol works efficiently as a solubilizer when materials will not dissolve into a formula.
Hydroxyethyl Ethylcellulose
This nonionic polymer is part natural and part synthetic. It is often provided as a fine powder that is added slowly to the water phase of the formula to create viscosity and change the product's rheology. The rheology of this treatment product is crucial, as it must stay in place on the hair while it works repairing di-sulfide bonds. If the rheology (flow) of the product is incorrect, the formula isn't optimized to its full potential, and it could either drip from the hair and go to waste or be too firm and not spread nicely through the hair.
Stearamidopropyl Dimethylamine
This is a cationic amidoamine; an amide and an amine group together. It leaves a soft after-feel on the hair and helps with detangling. Amidoamines are often used as secondary conditioning agents within formulas.
This is a conditioning agent with which I am not too familiar. It seems to be used mostly in home care applications such as fabric softeners, and can be difficult to solubilize if it is in its solid form. Quaternium and polyquaternium are general INCI names for a wide range of chemicals that could fall into these INCI name categories.
Cetrimonium Methosulfate
This conditioner is very similar in structure to the behentrimonium methosulfate used above, except it has a shorter alkyl chain attached to the amine group. This makes the cetriumonium methosulfate a liquid and the behentrimonium methosulfate a solid.
Cetrimonium Chloride
This classic conditioner has been used for many years. It is a quaternary ammonium salt that conditions and leaves the hair feeling soft, providing anti-static properties without leaving a visible film on the hair.
Polyquaternium-37
Although this material does have mild conditioning properties, its primary function is to act as a rheology modifier. It is in powder form and swells once added to the water phase. It can be used for both clear and opaque systems, depending on the grade used, and improves the product's spreadability.
Ascorbic Acid
I'm quite surprised to see this ingredient present in the list. Ascorbic acid (vitamin C) is incredibly unstable, particularly at pH 4 which is around the standard pH of a conditioner formulation. Ascorbic acid is, however, a powerful humectant that attracts moisture to the hair.
In-use Testing
I've always had frizzy hair, and living in the UK where it rains 90% of the time, a simple journey outdoors can cause mayhem on my uncontrollable frizz. I do admit to overusing my straightening iron; I tend to apply it to my hair after every wash and dry, which is once every two days. As well as this extreme thermal damage from my straightener and hair dryer, I enjoy a trip to the salon to top up my balayage hair color, where the bottom half of my hair (yes, the weaker, more damaged section) is dyed blonde and the roots of my hair remain my natural brunette colour. I've also noticed that when I concentrate, I find myself twiddling my hair around my fingers.
This combination of thermal, chemical and mechanical damage should be destroying my hair completely, yet it seems to be in the best condition it's ever been in. It could be a factor of many things such as diet, regular haircuts or even just a positive mental well-being, but I really believe it has a lot to do with Olaplex.
Each time I have my hair dyed, my hairdresser uses Olaplex No. 1 and No. 2. I then buy the No. 3 and use this treatment product at home once a week or every two weeks. Although the product says to leave it on for 10 min or more, I usually leave it on for an hour plus. It also says to apply generously but I've found that a small coin-sized dollop usually works fine; but I focus more on the ends of my hair and then comb the product through the rest of my hair.  
The cost of this product is around £30 for 100 mL which seems expensive, but you use such a small amount each time that one bottle usually lasts me several months. I really do love this product and I get comments regularly from friends I haven't seen in a while to say how healthy my hair is looking. For me, the price tag is worth it, and I can see a visible difference in my hair.
Source: Olaplex website
Disclaimer: This article was produced in London, UK, and therefore the INCI listing and INCI names comply with European labeling requirements.