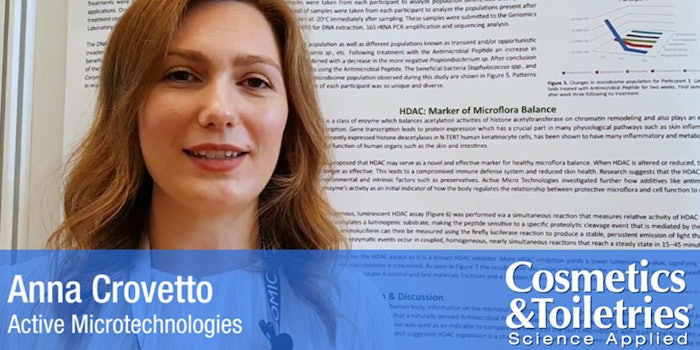 "Finished cosmetic products on the [European] market must pass the challenge test," explained Anna Crovetto, of Active Microtechnologies, in this video interview recorded during the IFSCC Congress in Münich.
"And at the moment, there's a huge trend of probiotics within cosmetics, which is kind of an oxymoron compared to the regulation because a probiotic is a live bacteria. So, how can you add a live bacteria to a cosmetic formulation that has to pass a challenge test?" There are, of course, ways to accomplish this, as we've described previously.
She added that this trend for probiotics has become very popular mainly due to research conducted into the microbiome and mapping the microbiome genome on humans, which has had a huge influence. Here, she explains how Active Microtechnologies, as a manufacturer of alternative preservatives, looks at the effects of preservatives on the microflora and microbiome of the skin.