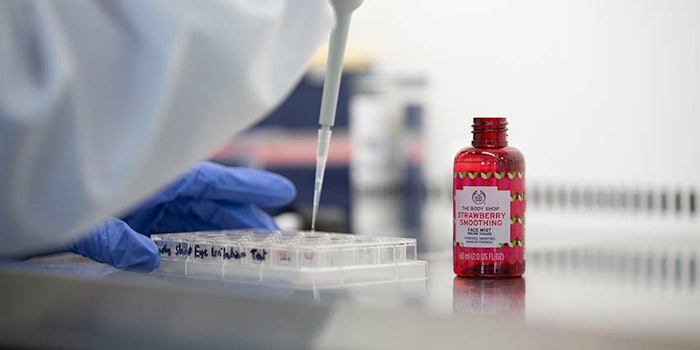 The Body Shop has teamed up with XCellR8, a laboratory based out of Daresbury, Cheshire, England, for animal-free testing.
XCellR8 claims to be "the only lab globally to make its tests entirely animal-product free in a regulatory environment, eliminating all animal components from their tests," reports the Warrington Guardian.
In addition to testing, the companies are working together to lobby for a worldwide ban on animal testing. XCellR8 founder Carol Treasure, Ph.D., joined The Body Shop at the United Nations' 18th general assembly to explain how animal-free safety tests have become the industry norm, due in part to innovations in human cell culture techniques.
Related: Europe Calls for Global Animal Testing Ban
"We've recently started working with XCellR8 because it's an innovative, women-founded, British, animal-free testing business," Jason Matthews, international director of regulatory at The Body Shop International told the publication. "We both share a strong commitment to animal testing alternatives and we're passionate about the scientific and ethical advances in this field."
"Our aim is to become the global leader in animal free testing," added Treasure. "Our in-depth, academic understanding of physiology and how chemicals react with the body, mean that more accurate and reproducible results are achieved when tests are conducted on human skin cells instead of animals. Partnering with The Body Shop has been the icing on the cake of a fantastic year for XCellR8 and our continued investment in innovation, research and development keeps us at the forefront of cosmetic science."