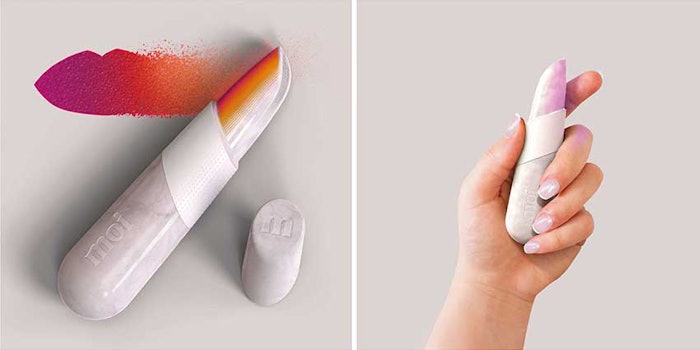 1HQ
With the rise in innovative technologies in cosmetics, 1HQ has created a concept for a technologically advanced, reusable, customizable, sustainable lipstick called Moi—showing how lipstick could progress in years to come.
Related: Personalized Cosmetics: Has the Time Come?*
The company highlights how different shades and tones can be created by voice command to appeal to consumers of greater diversity. Moi would also allow wearers to save color selections and create personalized shades, patterns and gradients.
Sustainability
Furthermore, 1HQ reports this digital lipstick could help the beauty industry reduce the amount of plastic it contributes to the environment, thanks to its reusable applicator. In relation, autonomous filling stations would be established in easily accessible, high-traffic retail areas.
Color-changing Technology
According to the company, inkjet technology is utilized to create color-changing effects using piezoelectric "Drop on Demand" (DOD) technology. The lipstick applicator releases its formulation through tiny nozzles and proximity sensors to print a range of colors that complement the consumer's skin tone or preferred shades. Reportedly, the applicator utilizes the inkjet printing technology such that each application is as good as the first.
Featured: Expert Opinions on Color Cosmetics: Mask-proof Claims and More
Custom Scents and Flavor
Based on the idea that 3D olfactory printers could be used to create new scent molecules, the technology could engineer 3D printed scents and tastes for lipstick, which would allow for further personalization options.
Smart Application and Use
According to 1HQ, the development of self-regenerating materials is currently underway. The company believes this technology could also be applied to makeup—leading to lip gloss that remains in place all day, or a lipstick applicator that repairs itself when damaged.
In addition, achieving the look consumers want will require less time and effort, as built-in software will reportedly learn every contour of the user's face and the exact shades of complexion thanks to digital scanning technology combined with DNA and biometric data. Once the face has been scanned in-store using augmented reality equipment, or at home using smart mirrors, all consumers will have to do is glide the applicator over their lips to achieve features such as a fuller or more puckered shape.
Featured: Lipstick Lowdown: How Pigment Dispersions Change Sensory Traits
To use the product, consumers take off the cap to switch the lipstick on and replace the cap to turn it off. Like other smart devices, the lipstick will likely be controlled through a mixture of haptic and voice input. Consumers will additionally select the right intensity of shade or texture, such as matte, gloss or satin, by simply applying pressure or speaking.
Finally, the lipstick will offer a number of preparatory benefits. For example, before applying makeup, consumers can exfoliate their lips with an enzymatic gel scrub feature to prevent feathering, or switch to a primer to fill in natural skin crevices.
Mass Customization
Regarding manufacturing, while mass production has its perks, the company predicts this will become a "thing of the past," as it is inflexible to adapting quickly to changing market and consumer needs. Instead, the company believes there will be a transition from specialization—i.e., making the same thing over and over, to mass customization through flexible manufacturing.
Previously: Personalized Beauty: What the Data Tells Us
Enabled by banks of connected 3D printers controlled by AI, blockchain and autonomous robots, the envisioned lipstick pack would be customizable on the production line, and even allow consumers to choose from applicator materials such as metals, ceramics and recyclable resins.
Conclusion
Personalization and customization in the beauty industry are becoming more widespread, trying to meet the unique needs and wants of each consumer. While cosmetics such as lipstick have many aspects that can be customized, the functionality, design and manufacture of this product have remained largely the same for many years.
As 1HQ noted, thanks to the rise in technology in cosmetics, it is believed that lipstick has untapped developmental potential as packaging becomes smarter, enabling meaningful experiences.