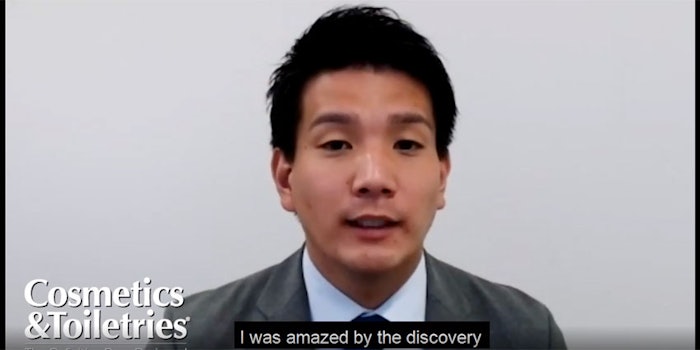 According to research from POLA Chemicals Industry, the University of Tokyo and the Yamagata University Faculty of Medicine, nerve fibers, which have the same origin as melanocytes during the development process, could be a factor in determining age spot-prone sites on the face. 
This work was presented during the IFSCC 2020 Congress. In this Cosmetics R&D Vlog entry, Rachel Grabenhofer, managing editor of Cosmetics & Toiletries, corresponds with Kazuki Nakayama, of POLA Chemical Industries, to learn more about these biological connections.
See related: Myonectin Release Drives Anti-aging Benefits in POLA's Bi-Ha-Dance
According to the podium paper, senile lentigines (age spots) occur on sun-irradiated areas such as the face and are a common skin problem worldwide. While the spots have drawn much research attention, little is reportedly known about the underlying factors determining where and why the spots appear. This study sought to identify whether nerve fibers could be a factor.
In immunofluorescence studies co-stained with melanocytes and nerve fibers, the ratio of melanocytes in contact with nerve fibers was significantly increased in the spot sites compared with the adjacent normal sites. Furthermore, in the spot sites, the co-localization of melanocytes and postsynaptic density protein 95 (PSD95), as the marker of the synaptic connection, was confirmed, indicating melanocytes and nerve fibers connected functionally. Under co-culturing with sensory neurons derived from human-induced pluripotent stem (iPS) cells, melanocytes exhibited accelerated darkening and dendritic extension.
See related: The Bright Side, Formulating Lighteners to Protect and Maintain Skin Health
As Nakayama explains, these results suggested that intracutaneous nerve fibers could be a key factor for determining spot-prone sites, positing a possible new treatment strategy.
Watch now: