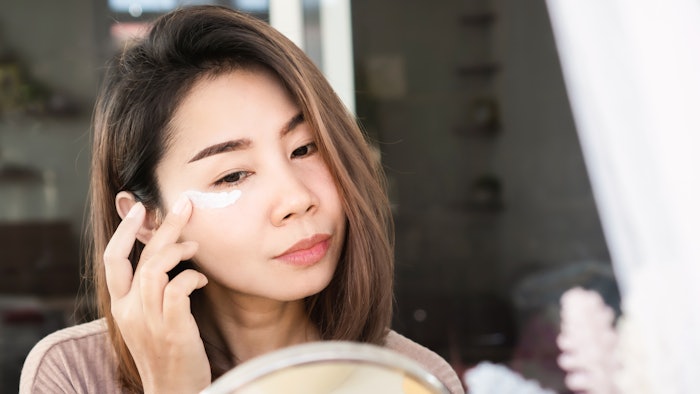 A recently published patent from Mary Kay discloses methods and compositions for treating skin around the eye area. Here, the unique combination of specified rheology-modifying agents is said to efficiently maintain active agents in suspension while exhibiting a pleasant skin feel, softening skin and attracting and retaining moisture while maintaining these desired properties over time.
See related: Patent Pick; Mary Kay Finds Zinc Oxide Complexes Improve Irritation, Stability
Market Need
As the inventors explained, in general, it is difficult to obtain emulsion-based cosmetic compositions that are stable over time. Exposure to increased or decreased temperatures, extremes in pH or the simple passage of time can cause undesirable changes in the texture of a cosmetic composition.
Such changes may include a drop in viscosity, causing phase separation of hydrophobic and hydrophilic components. The disclosed composition is said to prevent these effects.
Instant Effect Eye Cream
WIPO Patent Application WO/2022/094595
Publication date: May 5, 2022
Assignee: Mary Kay Inc.
Specifically described is a composition comprising ~0.2% to 20% w/w of attapulgite clay; ~0.05% to 5% w/w of polyurethane-39; and ~0.05% to 5% w/w Acacia senegal gum-encapsulated xanthan gum. The composition may further comprise ~0.2% to 20% w/w of magnesium aluminum silicate; ~0.2% to 20% w/w of sodium polystyrene sulfonate; and ~0.02% to 2% w/w of xanthan gum.
According to the inventors, it was surprisingly found that the combination of attapulgite clay, polyurethane-39 and acacia gum-encapsulated xanthan gum demonstrates increased stability, such as at a high pH and during freeze/thaw cycles, in topical formulas; especially in comparison with formulations that use magnesium aluminum silicate instead. This combination can therefore be used to stably suspend actives in products designed to decrease under-eye puffiness and/or crepiness, reduce under-eye lines, and improve skin feel, soften skin and attract and retain moisture.
Patent accessed on May 6, 2022.