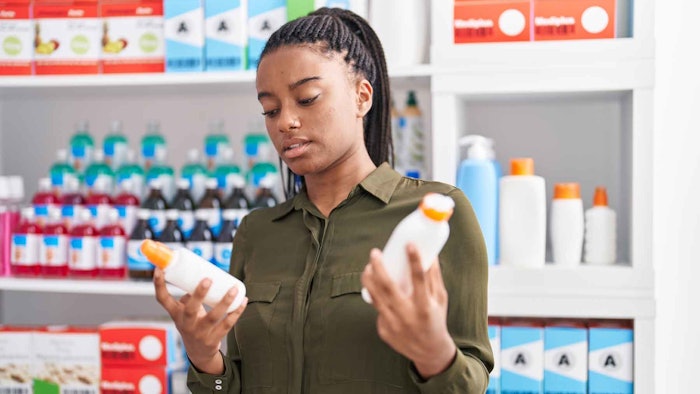 In a recent call to action, racial justice organization Color of Change urges consumers to sign a petition demanding that Target, ShopRite, Giant, Food Lion and other major retailers remove "toxic" products such as lye relaxers and hair dyes from shelves. The group cites studies linking the use of these products to several health issues as the driver for the petition, and the fact that these products are used disproportionately by Black consumers.
See related: L'Oréal Faces Lawsuit Over Alleged Cancer-causing Hair Straighteners
The goal is to pressure cosmetic and personal care companies to change potentially toxic, endocrine-disrupting ingredients and for the industry to "reckon with its anti-Blackness," the group writes. This comes just at a time when the industry is making inclusivity inroads, emphasizing the need to be louder and more visible.
Cited Health Risks
In terms of product safety, Color of Change points to a study released in October 2022 by the National Institute of Environmental Health Studies (NIEHS) associating the use of chemical hair straighteners with an increased risk of uterine cancer; although notably, a cause-and-effect relationship was not established. Citing this study, the New York Times highlighted that while the increased risk was found among women from all racial and ethnic backgrounds, Black women could be disproportionately affected, as 60% of participants who reported using hair straighteners self-identified as Black women.
See archived: Phthalates Flagged for Endocrine Disruption
In addition, a December 2019 study by the NIEHS found that women who used permanent hair dye and chemical straighteners have a higher risk of developing breast cancer than women who do not use these products. Among Black women, the use of permanent hair dyes every five to eight weeks or more was associated with a 60% increased risk of breast cancer, compared with an 8% increased risk for white women.
Other findings cited include the frequent and long-term use of lye-based relaxers can increase the risk of developing breast cancer. Furthermore, lawsuits have alleged that hair relaxer caused fibroids, resulting in the need for a uterine myomectomy to remove them; Boston University event developed a breast cancer prediction tool for Black women.
'Anti-Black' Sentiment
"Ultimately, the hair care industry built its multi-billion-dollar empire on the pressure that Black women face to adhere to Eurocentric beauty standards and have used some deceptive marketing strategies to convince our communities to purchase harmful products," writes Color of Change.
"Around 50% of products marketed to Black women contain hormone-disrupting chemicals. And many of the Black models featured on the relaxer packaging recently shared that they never had chemically treated their hair. Corporations have been selling Black women lies, and now our communities are dying because of it. ... It's time the hair care industry reckons with its anti-Blackness."
See archived: Ulta Beauty's 2022 Diversity, Equity and Inclusion Commitments
10 Moves Toward Inclusion
Notably, this petition has emerged at a time when the beauty industry is making efforts to become more inclusive across the board. The Daily Sundial reported ten ways it is doing just that, including:
Male personal care and beauty routines;
Gender-neutral beauty products;
Skin shade ranges for people of color;
Beauty across generations;
Ingredient transparency;
Brand commitments to inclusive beauty initiatives;
Tailored products for people of all abilities;
Indie startups and women-owned companies;
Accessible and affordable products; and
Representation of underserved communities.
While actions speak louder than words, it seems the industry needs to be louder and more visible in its inclusivity efforts. Furthermore, a grand gesture may be necessary to convince nay-sayers of the industry's commitment to consumer safety — regardless of ethnic heritage.
See related: Boundless Beauty; The Perception of Female Facial Appearance Across Ethnicities, and Targeted Solutions