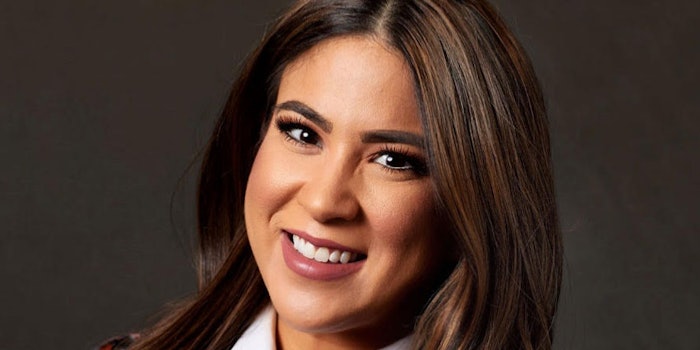 Meet Lynnette Greber, manager of clinical, safety and consumer testing at Victoria's Secret Beauty. Greber has earned her master's in cosmetic science from the University of Cincinnati.
Previously: Ones to Watch: Christine Tilghman
Tilghman is currently a Ph.D. candidate in the University of Cincinnati's industrial Ph.D. program, focused on biomembrane sciences.
I'm currently on the Skincare Innovation team with Shiseido.  Starting Mid-April, I will be joining the Research and Development Team at Victoria's Secret and PINK Beauty as a Product Safety manager, managing clinical, safety, and consumer product testing. I'm eager to join the team and start contributing. 
In a personal setting, I've become more interested in researching beauty trends and routines of Generation Z. This is a strong-opinionated generation that has a lot of influence on society and the direction of the beauty industry. There are so ways for them to interact with each other since they have more access to sharing information with people all over.
"One hurdle that this industry needs to overcome is finding more solutions to bridge the gap of mistrust between the beauty and personal care industry, and the consumer."
I have recently been interested in the Clubhouse app, which allows users to host and join audio conversations with others from all over the world about any category they want. In place of my podcasts, I've been regularly tuning in to as many skin care sharing sessions as I can. It's such a creative space with raw energy and I find it to be a more organic way of learning about the desires and thought processes of consumers and industry professionals. 
What do you like most about your work? What do you find most challenging?
I've always been fascinated with cosmetics. I love the artistry, self-expression and fluidity of it all. I entered this industry because cosmetics made me feel empowered and I wanted to help others feel this way on a deeper, more impactful level. I enjoy translating the needs and desires of the consumer into tangible products through the scientific method. My approach is to select ingredients that meet biological needs and create an experience through various product nuances that meet psychological desires. 
Related: Industry Insight: How Emotions Can Supercharge Cosmetics
Marrying these two approaches into one formula can be challenging, but I think that this holistic view is what gives me my edge as a cosmetic scientist. Whenever I see a product or formula that I've worked on come to life on the shelf and get a glimpse of it making an impact, such as a joyous review, it makes me feel like I'm closer to fulfilling my mission.
One hurdle that this industry needs to overcome is finding more solutions to bridge the gap of mistrust between us (the beauty and personal care industry) and the consumer. I've observed that there's this slight subconscious mentality among consumers. They have a propensity to believe that the industry doesn't always make products with good intentions and that we are sneakily putting ingredients in products to harm them.
I would first love to see the industry get on the same page with the messaging we are sending our consumers. After this, I want to see a safe space created for the industry and consumers to connect and share transparent information so that we can keep learning and growing from each other.  
Describe one of your biggest achievements or "A-ha!" moments relevant to cosmetics R&D.
One of my biggest achievements and "A-ha!" moments so far was early in my career as the lead formulation scientist for the Jergens Triple Butter Blend line. The products in this line were meant for the user to have an indulgent experience while cueing certain moods. This is where I first learned how to tap into this emotional space with the consumer. 
"It's our duty as an industry to learn how the definition of beauty is reshaping. . ."
I achieved this through ingredient research and designing a consumer research study to gather and analyze rich data on emotive behavior. This is the most authentically connected I have felt to a project.  
What is it about the cosmetics and personal care industry that excites you?
The most exciting part of the cosmetic and personal care industry is that it's always changing. Every person has their own definition and standards of beauty, and it can shift at any given time. It's also fascinating how strongly historical events and social movements can influence the definition of beauty around the globe. For example, color cosmetics didn't take off in the U.S. until the 1950s after World War II when women were eager to have men home from war. Today, color cosmetics are mainstream for women and more men are stepping into this category as well. 
So much is happening in the world today that we will look back on as historical events and this leaves a huge space for a transformation period for the beauty industry. It's our duty as an industry to learn how the definition of beauty is reshaping and what priorities in personal care are trending in order to elevate these ideas and experiences through products.  
What areas or technologies do you think are untapped for cosmetics R&D? i.e., what areas would you like to explore to shape the future of our industry?
The year 2020 has opened my eyes to the untapped territories relating to the future of cosmetics R&D, such as beauty and personal care in a post-pandemic world; reliance on technology and artificial intelligence; and keeping diversity and inclusion at the forefront of product design.
As we all grow and learn in this industry, there will always be new generations, perspectives and events that will lead to innovative ways of approaching solutions through products. Maybe I'm biased but it's especially exciting to me that scientists get to be the backbone of formulating these solutions.