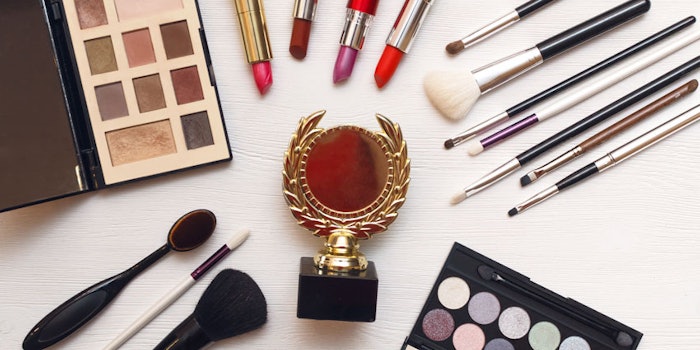 From pre- and probiotic skin treatments to sustainable sun care, this year's in-cosmetics Innovation Zone and Green Ingredient Awards showcased several creative and innovative cosmetic technologies amongst the winners.
During a virtual event, winners were chosen for Best Active Ingredient, Best Functional Ingredient and Best Green Ingredient. Judged by industry experts, these awards recognize the cosmetic ingredient manufacturers who are pushing the boundaries of innovation while responding to evolving consumer demands.
Best Active Ingredients
Gold: Vytrus Biotech, Kannabia Sense: This ingredient is designed to stimulate the skin microbiota to produce an in situ postbiotic cocktail that promotes the synthesis of cutaneous oxytocin. Recommended for use in sensitive skin care, anti-aging cosmetics and delicate facial treatments, it is made from the plant stem cells of Cannabis sativa.
Silver: Vytrus Biotech, Deobiome Noni: This prebiotic deodorant treatment reduces the generation of body odor while allowing the skin to breathe and respecting the skin microbiota.
Bronze (tie): Mibelle Biochemistry, Alpine Rose Active: Based on the novel concept of senolytics, this ingredient was chosen for its ability to eliminate senescent skin cells and protect skin proteins from oxidative stress. 
Bronze (tie): Clariant Active, Prenylium: Thanks to Clariant's Plant Milking technology, this ingredient is extracted from the root of the Morus alba tree without causing damage to the plant. This sustainable approach to sourcing helps to stimulate root growth and results in a concentration of prenylated flavonoids reportedly 2,000% higher than what is typically found in mulberry root extracts.
Best Functional Ingredients
Gold: Symrise, SymEffect Sun: Based on renewable raw materials from responsible sources, this sodium stearoyl lactylate-based ingredient combines the advantages of conventional sunscreen products with the sustainability requirements of consumers. It offers a holistic way to meet the multiple challenges of sunscreen products. According to the organizers, it stood out for its use of natural sources, the efficiency of its UV filters and it formulation stability.
Silver: Dow Chemical, SunSpheres BIO SPF Booster: This bio-based and readily biodegradable SPF boost is designed to enable greater SPF efficiency in sun care and daily skin care products.
Bronze (tie): Clariant, Velsan Flex: Thanks to its high water solubility and Renewable Carbon Index (RCI) of 93%, this ingredient offers preservative-boosting powers together with broad formulation flexibility
Bronze (tie): Gattefossé, Emulium Dolcea MB: This natural origin O/W emulsifier is said to have the ability to create a wider range of textures, from fluid serum to thick butter, in a wide range of applications such as skin care, sun care, makeup and hair care.
Green Ingredient Awards
In partnership with Ecovia Intelligence, the Green Ingredient Awards recognize ingredients championing sustainability in the personal care and beauty market.
Gold: Henry Lamotte Oils, Paradise Nut Oil/Magdalena River Nut Oil: This ingredient took the gold for its ability to support the regeneration of the skin's lipid film while improving the water-retention capability of the skin, thus reducing transepidermal water loss.
Silver: Cargill Beauty, FiberDesign Sensation: This ingredient was awarded for its approach to sustainability and upcycling. Derived from 100% natural origins, this texturizer and emulsion stabilizer for skin care is based on citrus peel fibers from the pectin production side stream.
Bronze: Minasolve SAS, A-Leen Aroma-3: This nature-derived perfuming agent offers a broad-spectrum antimicrobial effect. It is a 100% natural version of phenylpropanol produced from cassia essential oil.