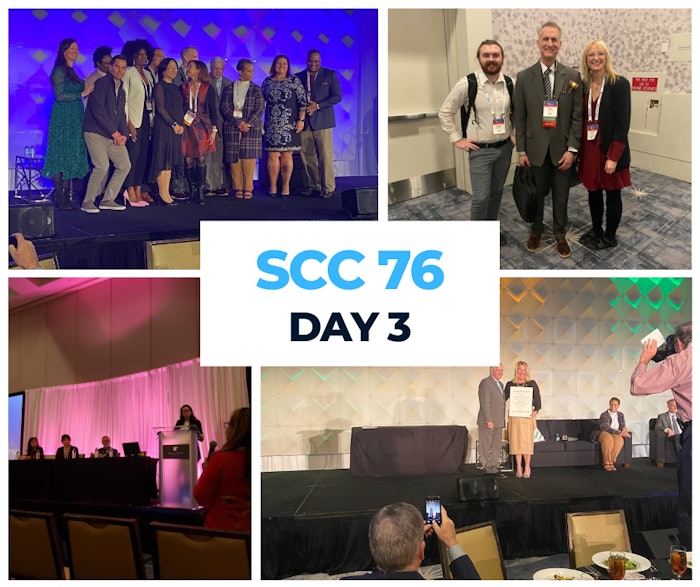 See Day One of SCC76 Annual Scientific Meeting; see Day Two of SCC76 Annual Scientific Meeting
Day Three of the 76th SCC Annual Scientific Meeting (SCC76) began with the awards breakfast, sponsored by Ashland, where Katherine Oglesby, of Nuritas, presented the Henry Maso keynote lecture about how AI is "revolutionizing" cosmetic actives discovery and commercialization. A showcase exhibition and discussions on sustainability and the future of skin care followed, wrapping up with a networking luncheon, and regulatory and modern formulating and sunscreen sessions.
See related: Roger McMullen, Ph.D., Honored at SCC 75th Annual Conference
The Big Winners
Acknowledging the scientists who have made great contributions to cosmetic science within the past year, several awards were presented:
Allan & Jeanette Black Award: Sponsored by Presperse, this award was presented to Amy Ethier, Ph.D., of BASF for the SCC75 presentation, "Evaluating the Environmental Impact of Natural and Synthetic Mica Through Life Cycle Assessment."
Hans Schaffer Award: Sponsored by the SCC, Daphne Benderly, Ph.D., of Presperse, was honored for the SCC75 presentation, "Screening of Personal Care Ingredients for Potential in Immediate Wrinkle Blurring."
Society of Cosmetic Chemists Award: Sponsored by Hallstar, this year's recipient was Anna Howe, of Evonik Corp., for the SCC75 presentation, "Bottle Your Sustainability Goals - Minimize Your Environmental and VOC Footprint in Sun Care Products."
Shaw Mudge Award: Sponsored by The Grant Mudge Trust, Kate Beers, Ph.D., of the National Institute of Standards Technology, received the award for her SCC75 presentation, "Soft Matter Circular Economy."
Joseph P. Ciaudelli Award: Sponsored by Croda, this award was presented to Evelyne Maes, Ph.D., Jolon M. Dyer, Ph.D., Santanu Deb-Choudhury, Ph.D. and Stefan Clerens, Ph.D., for the Journal of Cosmetic Science vol 72 special edition Nov./Dec. 2021 article, "Mapping Protein Cross-links in Human Hair via Mass Spectrometry.
Des Goddard Award: Also sponsored by the SCC, this award was presented to Brittany Pease, Ph.D., of Inolex, for her SCC75 presentation, "Bridging Personal Care and Environmental Care: A Holistic Approach to Formulation Development in the post-COVID-19 Era."
Student Poster Awards: This year's first place student poster winners were Olivia Meyer and Harshita Kumari, of the James L. Winkle College of Pharmacy, and Roneisha Hainey and Hilmar Koerner, of the Materials & Manufacturing Directorate of the Air Force Research Laboratory, who co-authored, "3D Printing and Additive Manufacturing: The Future of Cosmetic Science."
See archived: Winners in Cosmetic Chemistry, Service Names for SCC's 75th Annual Meeting
Sustainability Debate
The sustainability session, moderated by Benderly, opened with a discussion from Steve Block, of NxtLevvel, on converting biomass to affordable and renewable ingredients. Levulinic acid derivatives were synthesized from second generation biomass, particularly bagasse from sugar cane and corn cobs, providing a route to adding circularity to agricultural waste and that are produced using a low energy manufacturing scheme to lower carbon footprint.
Alicia Roso, of Air Liquide, described rheology as a screening tool when reformulating is necessary to improve sustainability. She demonstrated how rheology could be used to better understand the effects of the substitution of waxy components and can anticipate instability problems under stress and to model flow or spreading situations, facilitating and accelerating the pre-selection in reformulations. It also supported the optimization of more sustainable cold-processes with fewer ingredients,
Haley Gershon, of Beta Analytic, discussed measuring bio-based content of personal care products using carbon-14 testing, while Valerie Andre-Frei, of BASF, presented a new generation of sustainable cosmetic dodecapeptides obtained by yeast fermentation. The peptides were scientifically proven through an in vitro study on 3D reconstructed skin and in two in vivo clinical studies to improve skin elasticity, dermis density and forehead wrinkle reduction. Finally, closing the session, Jennifer Novakovich, of the Ecowell, discussed "Sustainable Development During the 'Infodemic.'" 
The Q&A session drove philosophical discussions such as whether renewable resources are renewed quickly enough to surpass consumption and warrant a "renewable" label, and whether the cost and time to complete the documentation application for "biopreferred" is a barrier to innovation. Also, who decides what is considered "good" for the environment, or sustainable? And how does the evolution of science get factored in? For example, coffee used to be good for us, then bad for us, then good for us again. . .
Then there is the issue of consumer belief vs. the science. The panel mostly agreed that science takes more explanation than the 15 sec you have to communicate to the consumer (per their attention span). This is where the importance of scientific communication becomes key. In relation, Novakovich shared a handful of influencers who she believes convey information based on actual science.
Lastly, the panel discussed the idea of consumers becoming more sustainable by slowing down their consumption and using fewer products, especially considering how "less is more," in terms of layering products on skin, according to Novakovich. "Crave Beauty does a good job of this," she added.
Future of Skin
Concurrent to the sustainability debate, the future of skin care highlighted everything from AI and livestreaming, to facial sculpting and cell turnover. Philip Ludwig, of BASF, presented on the use of AI to uncover natural, soothing peptides, from 12 to 17 amino acids, in rice proteins. A controlled enzymatic hydrolysis process was developed to unlock these peptides and produce the "Unlocked Peptides Network." In vitro assays demonstrated their stimulating effect on involucrin synthesis in TNF alpha-treated NHEK and elastase inhibition.
Independent consultant Zhi Li, Ph.D., looked the East with his talk on how Chinese indie beauty brands thrive with their marketing using livestreaming on mobile social platforms, while Cristina Carreño, Ph.D., of Lipotec Active Ingredients/Lubrizol focused on emulating microcurrent devices for next-generation facial sculpting. This work investigated the impact of external microcurrent stimulation on fibroblast functionality, validating the role of MBNL1 and EDA-fibronectin in the contraction of the dermal layer. A novel active was developed that could mimic these biological processes.
Rong Kong, Ph.D., of Amway, looked at cell turnover from a new angle using patches with 5% dansyl chloride in petrolatum, applying those to skin, then applying exfoliating actives and measuring the dansyl chrloride fluorescence. Results demonstrated the method provides an objective way to measure cell turnover instrumentally.
Lastly, Michael Galaburda, of Nielsen IQ, emphasized the need to understand product attributes at a granular level to uncover whitespace in the market for future innovations. According to Galaburda, over the past few years, there has been a large amount of disruption in the skin category, including supply chain issues, inflationary pressures, channel shifting and the constant influence of emerging trends driven by culture ands product innovation. "As social media and young influencers continue to dictate the zeitgeist, decisions at shelf very much tell a story of functional/beauty benefits defined by both what is and what is not in your products," he wrote.
Regulatory Talk
The regulatory session, moderated by Craig Weiss and co-sponsored by the Independent Beauty Association, kicked off with Sharon Blinkoff, Esq.,  senior counsel of Locke Lord LLP, with a talk on new regulations. Blinkoff discussed why product claims are important, mentioning the recent Sephora lawsuit, and emphasized a need to educate consumers on product benefits and features, and the necessity of data to prove claims and proper testing to use methods that are accepted by experts in the field. 
Previously: Frontiers of Science, Diversity and Awards Headline SCC Annual Day 2
Yun Shao, Ph.D., of Kobo Products, Inc., presented, "Selecting the Right TiO2/ZnO for Performance and Regulatory Compliance." Shao discussed global requirements per regions of sunscreen efficacy regulations to claim SPF 50+, including EU, Australia, the USA, Japan and China. Complications stem from UVA regulation, according to Shao, which varies in ratios per region. He continued with the interaction of light and TiO2 and ZnO in terms of refraction and absorption; how the particle size of TiO2 affects UV protection; and then delved into the UV efficacy of ZnO.
Stephanie Ross Leshney, founder and CEO of Dabble & Dollop, presented on a novel approach to formulation, scale-up and testing. Leshney emphasized the importance of ingredient quality, especially those for children. "Ingredient decks don't tell you everything, they don't tell you the quality of the ingredients being used," she said. Ross continued by talking about the tendencies of indie brands to be celebrity backed and focused on a narrative.
The session continued with Paul Slavashevich, of Symrise, who detailed a way to evaluate and grade skin sensitivity through a skin sensitivity index. Classical methods such as the sting test may not be correlated enough to address skin sensitivity, according to Symrise. As such, two indices were developed: a clinical index, based on self-perception; and an instrumental image-based index, which predicts the sensitive from parameters computed from hyperspectral acquisitions. The two are used to complement each other; soothing performance assessments are next steps.
The final discussion was presented by Zhi Li, Ph.D., independent consultant, who expanded on China's latest CSAR, which contains many regulation changes and updates, as well as requirements for cosmetic formulations. 
See related: China Moves Special Use Cosmetic, Ingredient Certificates to E-format
Modern Formulating and Sunscreens
Concurrent with the regulatory/claims track, the modern formulation and sunscreen design session, moderated by Dennis Abbeduto, of Colonial Chemicals, started with a look at emulsion stabilization. Hani Fares, Ph.D., of Ashland, presented on the polymer design of naturally derived cellulosic polymers to stabilize functional skin care, makeup and sunscreen while bringing sustainability to the mix. Mike Fevola, Ph.D., of Inolex, discussed a clear solution for sustainable solubility and preservation using polyglyceryl esters for fast micellar dynamics.
Benjamin Schwartz, of AAK, looked at the dispersion of mineral UV filters in plant based emulsions, while Alicia Rosso considered high internal phase (HIP) gel-in-oil emulsions, and how to optimize their composition and prepare them. According to Rosso, flowing experiments proved to be a useful tool: "Slope failure in the flowing profile indicated some weakness of the structure under stress, associated with a sudden drop in viscosity compared to optimized gel-in-oils that reacted with a standard shear thinning profile," she wrote. "Common parameters such as viscosity, conductivity or microscopy monitoring were not able to indicate that risk."
Finally, Stellie Balthazard, of Sensient Cosmetic Technologies, shed light on how to best formulate aesthetically pleasing mineral sunscreens. "The choice of using a surface treatment, emollients and process are key parameters to consider when developing sun care products," she wrote, in the event preprints. "They have a direct impact on formulation aesthetics including fluidity, spreadability, skin feel, visual appearance as well as consumer's perception and, more importantly, efficacy."
The 2023 SCC Annual Meeting will return to New York on Dec. 12 and 13 at the Sheraton New York Times Square. See the website for more information.