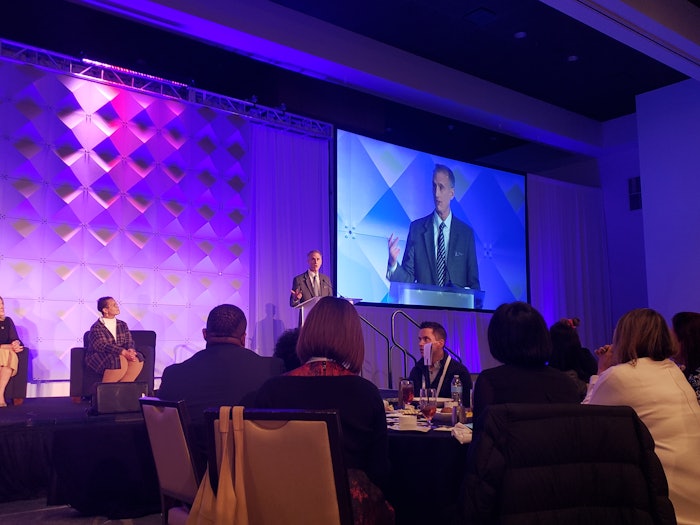 See Day One of SCC76 Annual Meeting; see Day Three of SCC76 Annual Meeting
Day Two of the SCC Annual Scientific Meeting kicked off with a keynote exploring bioactive molecules from nature, presented by Paul Alan Cox, Ph.D., executive director of Brain Chemistry Labs. He presented ethnobotanical studies of indigenous peoples and the utilization of local ingredients, highlighting:
Bioactive molecules from nature – including the communications of molecules among predator and prey in terms of poisons, and how dangerous molecules have been incorporated into medicine such as insulin in type 2 diabetes;
Ethnobiology – and the discovery of ingredients local to specific areas, as well as the use of these ingredients and how they are applied in indigenous culture, such as the use of dyes or tattoo inks from Aleurites moluccana; and 
The Ogimi Village – A small village on the northern tip of Okinawa whose locals display unique characteristics. Cox stated: "If I could take you there for a day it would entirely change your view of what aging means." He explained how the people have no development of aging diseases, demonstrated through a video of a healthy 98-year-old woman from the village.
The morning then broke into sessions on makeup, fragrance and sensory, and diversity.
Diversity and Inclusion
The latter was moderated by Akshay Talati, vice president of product development and R&I at GOOP, and included:
Valerie George of Simply Formulas on formulating strategies for conditioning hair. Her discussion detailed how hair conditioning breaks down to consumer perception, and how consumers have a newfound desire to understand what is in the products they use.
Allison Garlet, technical service specialist of bioactives at BASF, who addressed hyperpigmentation in melanated skin. She described how the company developed two in vitro models mimicking hyperpigmentation that related to both age or acne hyperpigmentation. Garlet explained how using this development demonstrated the performance ofa botanical blend on different endpoints relevant for each type of hyperpigmentation. The activity was confirmed by clinical trials.


Richard Leroux, Ph.D., scientific and technology manager at Sederma, who highlighted nature's diversity to serve beauty diversity. This discussion outlined olive complexion prominence in all continents. The three main problems found in individuals with this skin type were: dull and greenish complexion due to inflammation, dark areas due to pro-inflammatory hyperpigmentation and hypersensitivity due to pro-oxidants. Solutions were drawn from the flowers of Buddleja davidii, which produces a fragrant nectar that attracts butterflies and is also traditionally used in the treatment of inflammation and native cells in BD-PCC.
Gina Guiliano-Koustoubardis, technical service specialist, and Mythili Nori, senior scientist, performance and claims, at BASF, who presented a "passport" to textured hair ingredients and solutions. This talk focused on the needs of consumers in specific regions, such as South America, where women need multifunctional products for healthy, curly hair, while an emphasis on chemical straighteners and the desire for a straight hair appearance was desired by African women.


Finally, Crystal E. Porter, Ph.D., president of Mane Insights, discussed research-driven initiatives to transform the future of hair and scalp care. She explored innovative claims and a need for transparency in the industry. She also stressed the significance of defining how information is acquired, and embracing diversity by showing differences and collaboration.
Makeup, Fragrance and Sensory
Session E, focused on makeup, fragrance and sensory, was kicked off by moderator Kelly Kenellis, project manager and senior research scientist, fragrance development, at Kao USA.
Lily Jiang, of SGS, opened the session with a look at the application of digital sensory techniques in odor and taste differentiation. "Sensory evaluation is important. The number one thing consumers do with products is smell them," she said. Jiang explained differences in using trained panelists versus devices to measure reactions to products. "The challenge with panelists is it takes time to train them. People also become desensitized," she explained. According to Jiang, combining biosensors with electronic devices is a better approach and digital technologies can effectively mimic the sense of human smell.


Next up was Jasmine Leong, of Croda, who presented on EEG to link emotional reactions with texture. She also explored combinations of imaging the intensity of emotions with consumer ratings and EEG processing to remove the artefacts and arrive at descriptors of light, rich, oily, greasy, etc. Classification of emotions was achieved through arousal and valence readings. "We wanted to gain an understanding of ingredients beyond sensory properties and into neuroscience," she explained. "This will help formulators to design skin care that has not just sensory but also emotional benefits."


Yinli Wang, Ph.D., of CARSLAN, gave a virtual talk that looked at phenomenon of darkening in foundations. She identified that light exposure was not the main cause, rather sebum was.


Lastly, Joe Dallal, of Ashland, presented on creating an aqueous, unscented jasmine extract that connects with emotion, capturing the holistic microbiome to do so, and using phytofermentation to produce and apply the resulting ingredient. He shared the importance of timing when it comes to harvesting fresh jasmine flowers. "The smell of flower changes with temperature, and the plant microbes can change the chemistry of the nectar," he explained – which is why timing it with pollinators is critical.
During the Q&A session, one attendee asked Dallal whether other flowers were under investigation for positive emotional effects. He acknowledged that yes, this was in the works – that the jasmine was the first in this line of study. Another audience member asked whether AI was used in the development of the extract. "We used bioinformatics in the early days," he said. "AI narrows the among of tests performed and helps to identify areas where to look," he said. "But it doesn't give you the answers; it just saves you a lot of work."
Much of the Q&A posed the idea of combining the various techniques used across the various presentations to validate results, and all presenters agree cross-comparison was important.
Awards Luncheon
After the morning session closed, attendees adjourned to the president's luncheon, where top industry awards were presented for SCC industry service, innovation, education, papers, presentations and more.
The industry's highest honor, the Maison G. deNavarre Medal Award, is designed to recognize an individual for accomplishments in activity supporting the best interests of the cosmetic industry through technical contributions. This year's honoree was David Steinberg, a long-time adviser and columnist for Cosmetics & Toiletries, who among other numerous achievements founded the Fairleigh Dickinson University cosmetic science program. "Never stop learning. And never stop sharing your knowledge," he advised attendees.


Bart Maxon received the SCC Merit Award for outstanding service, distinguished leadership and exceptional contributions to the society on a national level. "Believe in yourself," Maxon urged attendees, sharing some of his personal challenges and triumphs in his professional career.


The Florence Wall Women in Cosmetic Chemistry Award is designed to recognize a woman for significant accomplishments to the cosmetic industry. This year's award winner, also with an impressive list of credentials, was Mindy Goldstein, Ph.D.


Finally, the Young Scientist Award, sponsored by Surfactech and presented by Tony O'Lenick, was given to Maliha Maavi Syed, Ph.D., of Avlon Industries, for her work on curly textured hair.
See related: Steinberg, Maxon and Goldstein Receive High SCC Honors
The awards luncheon wrapped up with heartfelt thanks to the outgoing national SCC Praesidium and committee members, and a warm welcome to returning and newcoming members. The 2023 leadership committee includes: president – Mark Chandler, ACT Solutions Corp.; vice president, Tony O'Lenick, Nascent Technologies Corp./Surfatech; vice president-elect, Akshay Talati, GOOP; secretary - Qihong Zhang, Ph.D., The Estée Lauder Cos.; and treasurer - Yulia A. Park, Ph.D., of Amway Corp. 
Following the awards luncheon, the afternoon split into sessions on hair care and skin care innovations.
Hair Care Innovations
Scott Cardinali, hair care business director of global innovation for Croda, moderated the hair care session. Presentations included:
Ella Hudson, of the University of Sheffield, on "untangling hair" using a holistic approach to understand hair damage by linking biological and mechanical datasets;
Yinxia He, Ph.D., of Croda, on assessing UV damage and antioxidant influence on human hair using spectroscopic, thermal and physical measurements;
Raissa Bittar Mastello, of Sensient, on the use of an empirical model to optimize the efficacy of semi-permanent hair dyes;
Joan Attia, Ph.D., of Lucas Meyer cosmetics, on a new pathway to improve scalp condition targeting infoammation and pro-resolving mediators;
Finally, Natascia Grimaldi, Ph.D., of Evonik, on a natural, effective alternative to synthetic hair bond multipliers.
Skin Care Innovation Panel
The innovations in skin care panel was moderated by Caryn Weiss, of Amway, and Daphne Benderly, Ph.D., of Presperse, featured:
Paul Lawrence, Ph.D., executive director of research and discovery of Biocogent, on reviving a more than century-old technology for modern skin care. He explored the microbial genomic information of all microbes that inhabit the skin as well as the use of phages in skin care to target C. acnes and S. aureus implicated in bed sores.
Allison Garlet discussed meeting the challenge of formulating a live probiotic to expand its use in cosmetics. Garlet detailed Lactobacillus crispatus, a Gram-positive, nonpathogenic, aerotolerant anaerobe isolated from healthy young skin. She outlined a previous study on lactic acid bacteria associated with young skin, and that the living probiotic has a beneficial impact on collagen synthesis.
Krys Bojanowski, Ph.D. of Sunny Biodiscovery, Inc., addressed the improvement of the dermal-epidermal junction. Bojanowski highlighted a new approach to skin aging using PPAR-α, assembled by extraction of Olea europea (olive leaf extract) with glyceryl ricinoleate and dimethyl isosorbide. He concluded that the agonist Is capable of stimulating type 4 collagen in the DEJ and improves connection the between dermis and epidermis.
Finally, Angus Robertson, head of sales at Oat Cosmetics, investigated a unique oat lipid extract to effectively deliver into the stratum corneum as a proven good source of skin-supplementing lipids.
The session wrapped up with a panel Q&A where Lawrence was asked what the possibility was of the phages going rogue. He answered: "Phages could certainly go rogue. The majority of phages that are in the world are DNA-based. The level of mutations will substantially diminish compared to an RNA virus." He specified that there will be different iterations as they continue to evolve and that they will have to continually monitor the populations they are using.
Day Two of the SCC ended with an exhibitor networking cocktail reception, followed by the California SCC's after party.