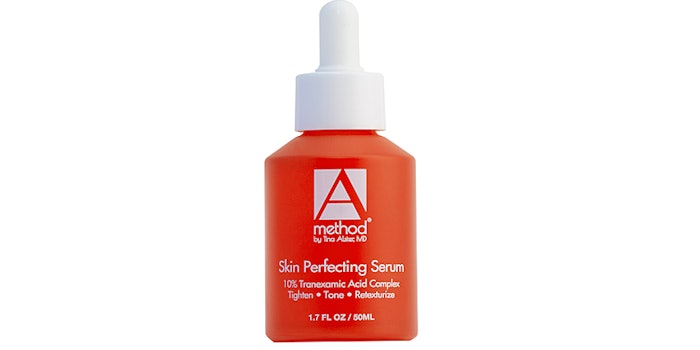 The A Method
The A Method by Tina Alster, MD, has launched its Skin Perfecting Serum, formulated with a 10% tranexamic acid complex plus five other pigment-correcting, skin-brightening ingredients. 
Archived: From Tranexamic Acid on Freckles to Nonanimal Fillers: Patent, Literature Findings
The serum is said to tighten, improve texture, tone and reduce the appearance of enlarged pores. It also helps to stimulate natural collagen production.
According to the company, studies have revealed that tranexamic acid slows the production of melanin and can even block the transfer of pigment from melanocytes to keratinocytes. This can be beneficial for those that have blotchy skin, as the acid provides a solution to diminish hyperpigmentation concerns. Additionally, tranexamic acid provides an environment for healthy skin to fight off free radical damage and other stressors.
For maximum results, it is recommended to apply the product after cleansing the face, twice daily. Then, follow with a moisturizer and eye cream. The serum also reportedly helps to increase the effectiveness and absorption of other usual regimen products.
Further, the product is reportedly suitable for all skin types and can be used during pregnancy. It also it can be used on large body areas such as the arms and legs, underneath a moisturizer.
"Tranexamic acid is a powerhouse skin brightening ingredient that is as effective as hydroquinone but has a much better safety profile," Tina Alster, M.D., FAAD, creator of The A Method, said. "It evens out skin tone with little to no irritation or peeling, and plays well with other active ingredients such as vitamin C and retinol. I routinely recommend The A Method Skin Perfecting Serum to amplify the effects of other active ingredients in my patients' existing skincare regimens."
Ingredients:
Water (
aqua
), Tranexamic Acid, Sodium Tricholoracetate, Ethyl Alcohol, Phytic Acid, Glycolic Acid, Delta Lactone, Salicylic Acid.