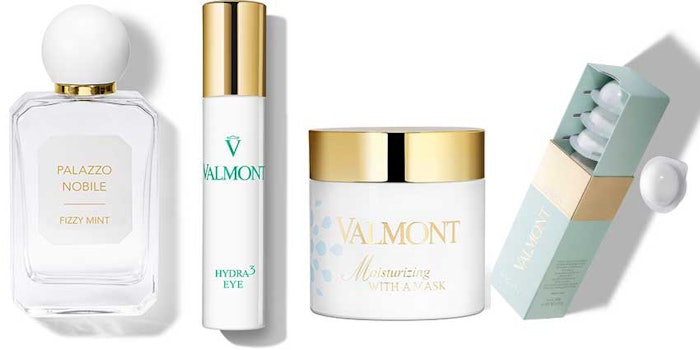 Valmont
Valmont, a Swiss-based beauty brand, will release four revitalizing products in March 2021, including: Deto2x Pack, Moisturizing with a Mask, Hydra3 Eye Serum and Fizzy Mint fragrance.
Previously: Valmont to Launch AWF5 in 2 New Collections
Inspired by Valmont's Deto2x Cream, the Deto2x Pack is an oxygenating bubble mask reportedly designed to activate the skin's detox system. Provided in six capsule "doses," the Deto2x product aerates the skin and stimulates cell renewal, resulting in a natural glow and refined texture.
Moisturizing with a Mask is now available in a 100 mL container; the original was offered in a 50 mL jar. Moisturizing with a Mask delivers smooth, rejuvenated and firm skin from the first application.
Hydra3 Eye Serum is the most recent addition brand's skin care range. It is a soothing formula that reportedly prevents small wrinkles before they are set, corrects signs of aging and combats dark under-eye circles and other signs of fatigue.
Finally, Fizzy Mint is a refreshing eau de toilette for both men and women. Inspired by the Italian savoir-faire, Fizzy Mint features notes of bergamot, fresh mint and Verbena that according to the company, further accentuate its clean and refreshing scent. Even though the other products in this offering will be launched in March 2021, this mist will be available in April 2021.