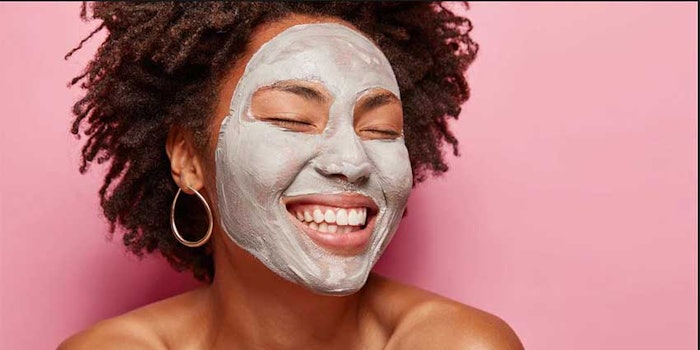 Elina Organics has launched Crushed Copper Purifying Mask, an organic, deeply purifying and decongesting mask that contains copper powder, which has antibacterial effects to help fight acne.
Related: Read the Label: Alpha-H Vitamin B with Copper Tripeptide
In addition to copper's powerful antiseptic and healing properties, it is reported to firm and rebuild the skin by stimulating the regeneration of proteins. The mask also contains activated charcoal and kaolin clay. This mixture is said to work together like a magnet to draw out impurities from the pores.
"Copper has a strong antibacterial effect and it helps to fight acne-causing bacteria. It also has anti-fungal and anti-viral properties that makes it wonderful for preventing breakouts," explains Elina Fedotova, cosmetic chemist and founder of Elina Organics. "It is proven to firm the skin by stimulating collagen regeneration, which makes it wonderful to fight signs of aging. Copper powder also helps to gently polish skin to create an immediate glow."
The formula is enhanced with the addition of fulvic acid. It helps to reduce scarring and discolorations with an essential blend of trace minerals and electrolytes. According to the company, fulvic acid has been shown to improve the skin's protective barrier, balance the microbiome and prevent future breakouts. Finally, diatomaceous earth nourishes, polishes and detoxifies the skin with a synergistic blend of nutrients.
Ingredients: Distilled Water (Aqua), Aloe Vera (Aloe Barbadensis), Burdock (Arctium Lappa), Black Willow Bark Extract (Salix Nigra), Diatomaceous Earth, Kaolin Clay, Cooper Powder, Yarrow (Achillea Millefolium), Fulvic Acid, Organic Sunflower Liposomes, Activated Charcoal, Frankincense (Boswellia Carterii), Juniper Berry (Juniperus Communis), Tea Tree (Melaleuca Alternifolia).
Source: Elina Organics