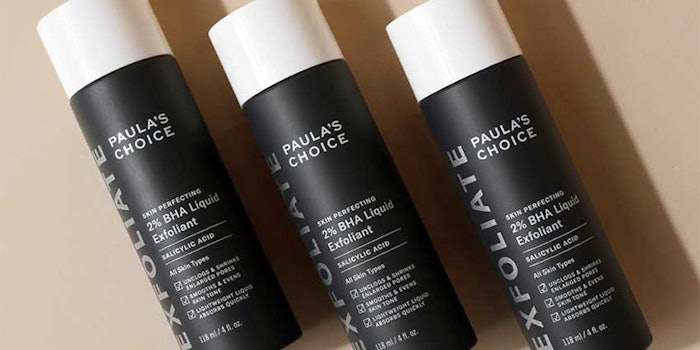 Paula's Choice Skincare 2% BHA Liquid Exfoliant is a leave-on product to target acne-prone skin and to improve the appearance of aging. This product is formulated with salicylic acid to specifically unclog pores, smooth wrinkles and brighten and even skin tone.
Related: Anti-aging, Pigmentation and Acne: The Depths of Chemical Peels
Beta hydroxy acid (BHA, or salicylic acid) mimics the natural exfoliation process of younger skin by helping to shed extra layers and clear pores. It also minimizes enlarged pores and reduces fine lines to reveal smoother skin. This product has a fluid, lightweight texture, an optimal pH range of 3.2-3.8 and is said to absorb into the skin quickly.
In an independent consumer panel, it was noted that 91% of users noticed healthier skin; 90% saw improved skin texture; and 82% experienced the appearance of smaller pores.
The product is recommended for application once or twice daily after cleansing and/or toning. Users are directed to lightly soak a cotton pad and apply it over the entire face, including the eye area but avoiding the lash line and eyelids. The routine is complete without rinsing.
Ingredients: Water (Aqua), Methylpropanediol, Butylene Glycol, Salicylic Acid, Polysorbate 20, Camellia Oleifera Leaf Extract, Sodium Hydroxide, Tetrasodium EDTA.