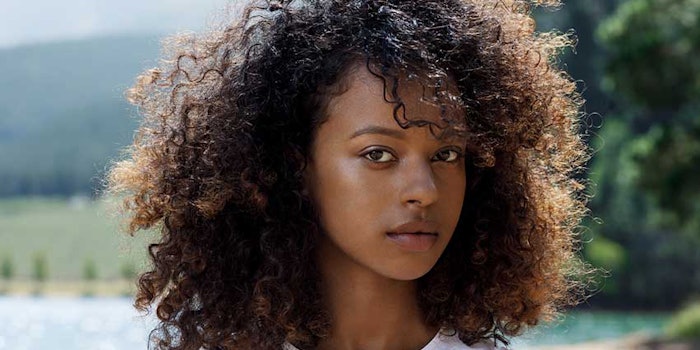 Clariant Active Ingredients has announced its most recent active ingredients—one for sensitive scalps, called EquiScalp (INCI: Malus Domestica Fruit Cell Culture Extract (and) Hydroxyacetophenone (and) Ethylhexylglycerin), and another for antiaging, Rootness Energize (INCI: Dicaprylyl Ether (and) Luffa Cylindrica Root Extract).
Related: Deeply Rooted Well Aging: Prenylated Flavonoids from White Mulberry
EquiScalp
EquiScalp soothes scalp irritation, including tightness, dryness, itchiness and redness. The ingredient respects the scalp microbiota by preserving the scalp bacteria population, which is important for protecting the scalp. This functionality derives from the concentration of the flavonoid phloridzin, which is harnessed from stem cells of the Fuji apple Malus domestica.
Phloridzin contains anti-inflammatory, anti-lipogenesis and skin barrier improvement capabilities to control inflammation and sebum overproduction, conditions that typically result from increased histamine activated by external environmental aggressions and stress levels. 
EquiScalp limits the production of two inflammatory mediators overstimulated in irritated scalps, IL-1Ra and S100A8/9, and inhibits histamine release by mast cells to soothe scalp sensitivity. This leads to a decrease in the irritation reaction that causes itching sensations and redness.
EquiScalp reduces sebum production by sebocytes, reinforcing its soothing effect. As a result, scalp desquamation is limited with less visible flakes and the scalp barrier function is reinforced.
Clinical data from volunteers using the ingredient exemplified limitation of scalp desquamation (flaking) by 20% and a reduction in scalp sebum production of 20% compared to the given placebo. Reportedly, there was a visible reduction of redness in more than 80% of the group and an increased feeling of comfort due to a decrease in scalp skin irritation.
EquiScalp is suited for oily scalp treatments, sensitive scalp formulas and scalp itch erasers.
Previously: Clariant's Clear Preservative Aid, Velsan Flex
Rootness Energize
Rootness Energize offers skin care formulations to counteract skin cells' waning bioenergy resources that coincide with aging and stress and refuel cells with energy to maintain its natural function and longevity.
The ingredient is produced from an extract of roots of the aeroponically-grown Luffa cylindrica plant. With the roots, Clariant is able to stimulate and boost the production of bryonolic acid, an anti-allergy, antioxidant and anti-inflammatory molecule.
Using patented Plant Milking Technology, the accumulated molecules are collected from roots without destroying the plant with traceability from the seed to the active. The resulting extract is claimed to be 10× more concentrated in bryonolic acid than would be found in traditional soil cultured roots.
As a result, Rootness Energize reactivates the metabolic processes to increase energy production in cells, boosting its respiration and stimulating ATP production to reshape the skin matrix structure.
Also related: Clariant to Produce 2M Liters in Disinfectant—Monthly
With this, the ingredient is able to increase skin elasticity and reduce age-related lack of tonicity and firmness, appealing to products such as firming creams, skin elasticity boosters and revitalizing care products for well-aging skin care.
In volunteer trials with a 1% Rootness Energize-containing formulation and a placebo, Clariant reported visible results of 20% increased firmness, 21% increased tonicity and 27% increased elasticity.
"While these new products are completely different, catering to very different needs, they share the fact that advanced technological processes make their sourcing more sustainable," says Alexandre Lapeyre, global head of marketing of Clariant Active Ingredients. "We apply science to nature to create actives effective at addressing very specific beauty needs, each one underpinned by plant resources' preservation, traceability, no exploitation of cultural land and ecological cultivation. In doing so, we help cosmetic formulators support consumers' requests for scientifically-proven and sustainably-sourced plant-derived ingredients."
For more information, contact Clariant.