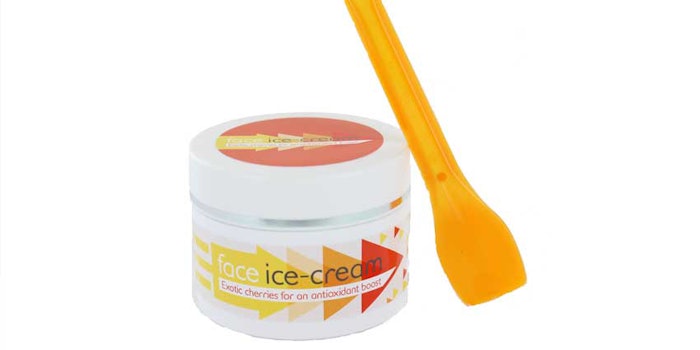 Naturex has expanded on its Beautyfood range with the new Energy Boost collection. This collection consists of:
Face ice cream, a skin cream consisting of Cornelian and acerola cherry extracts for antioxidant benefits; and
ACG Cocktail, a spray consisting of acerola cherry, Chakah honey and guarana, to provide skin with energy.
According to Mintel, new product launches containing Cornelian cherry increased by 183% and acerola cherry by 36% between 2012 and 2016.
Used in traditional Chinese medicine and rich in antioxidants, Cornelian cherry (Cornus officinalis Sieb. et Zucc) is a superfruit that aligns with the Asianification cosmetic trend. This fruit, which is known to deliver soothing properties and enhance skin radiance, is still emerging; and Naturex used this opportunity to its advantage, as the company believes Cornelian cherry will become a booming beauty ingredient in the near future.  
In vitro studies revealed the Cornelian cherry stimulates (+710%) the production of catalase, which is an enzyme that protects skin from oxidative damage. Additionally, the fruit increases (+120%) the production of glutathione reductase—an enzyme that helps to maintain the oxidative balance of the cells. Furthermore, the extract inhibited lipid peroxidation by 40%.
On the other hand, acerola cherry (Malpighia glabra L.) is known for its high vitamin C content and antioxidant power. Naturex utilized this benefit in an acerola powder extract, shown to have 26X more antioxidant activity than an orange. The ingredient is sourced in Brazil through a sustainable supply chain.
"Our Beauty Food themed range shows how today's healthy food ingredients can inspire the innovative cosmetics products of tomorrow," said Emilie Danckaert, global category manager. "Naturex has extensive experience with plant extracts for both the beauty and food industries and this puts us in the perfect position to identify specific food-based ingredients—like Cornelian and acerola cherry—that can make the crossover to deliver efficacy and performance in skin care products."