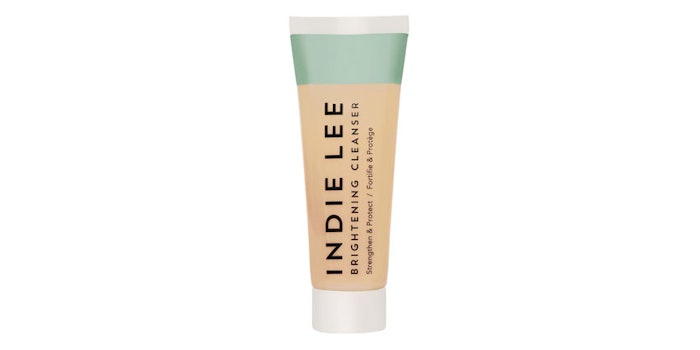 According to cosmetic manufacturer Cult Beauty, if skin feels dry and tired, the company's luscious, clean and effective Indie Lee brand brightening cleanser will give it a new lease on life, leaving the consumer "flawlessly fresh-faced."
Claimed to be gentle enough to remove eye makeup, the cooling gel texture is designed to wake up a tired complexion in the morning and provide an extra mood boost with its strawberry-infused scent. Furthermore, if the user has time to let it set for 5-10 min, it acts as a retexturizing mask.
Users are instructed to apply a small amount of cleanser to a wetted face, then use a moistened cotton pad to remove eye makeup, rinsing any remaining product completely with water. The cleanser should be followed with a toner and moisturizer.
This fruity-fresh cleanser targets consumers having a tired, lackluster complexion; even those with sensitive skin. It is designed to gently dissolve traces of makeup while renewing and revitalizing skin with its free radical-fighting lycopene and hydrolyzed wheat protein ingredients, to leave skin feeling smooth and looking even-toned and luminous.
This column will review the ingredient listing for potential claims substantiation and functionality. 
Editor's note: The goal of the present article is to provide a general idea of the ingredients cosmetic manufacturers are using that could potentially support the stated product claims. Without specified use levels and access to clinical studies, note that the author is drawing conclusions based on speculation, albeit derived from years of clinical experience and evidence in the literature. The following is offered for your consideration and further verification.
Base Ingredients
This water based formula contains propanediol, a solvent; and a group of mild surfactants: decyl glucoside, disodium coco-glucoside citrate, coco glucoside and glyceryl oleate. In addition, hydrolyzed wheat protein and xanthan gum are a film-former and emulsion stabilizer, respectively. The formula is preserved by ethylhexylglycerin and potassium sorbate.
Active Ingredients
Active ingredients include lycopene, a colorant and antioxidant, and strawberry seed oil, which provides omega-3 and omega-6 fatty acids to repair the skin barrier and restore moisture, smoothness and suppleness.
Conclusions
In my view, the ingredients in this formula could support the claim for gentle cleansing and a smooth, hydrated skin feel.
Ingredients: Water (Aqua/Eau), Decyl Glucoside (Veg. Oils and Sugar), Disodium Coco-Glucoside Citrate, Coco Glucoside (Coconut and Sunflower Oil), Glyceryl Oleate, Hydrolyzed Wheat Protein, Xanthan Gum, Fragaria Chiloensis (Strawberry) Seed Oil, Lycopene (Tomato), Propanediol, Ethylhexylglycerin, Potassium Sorbate.
Source: Cult Beauty website