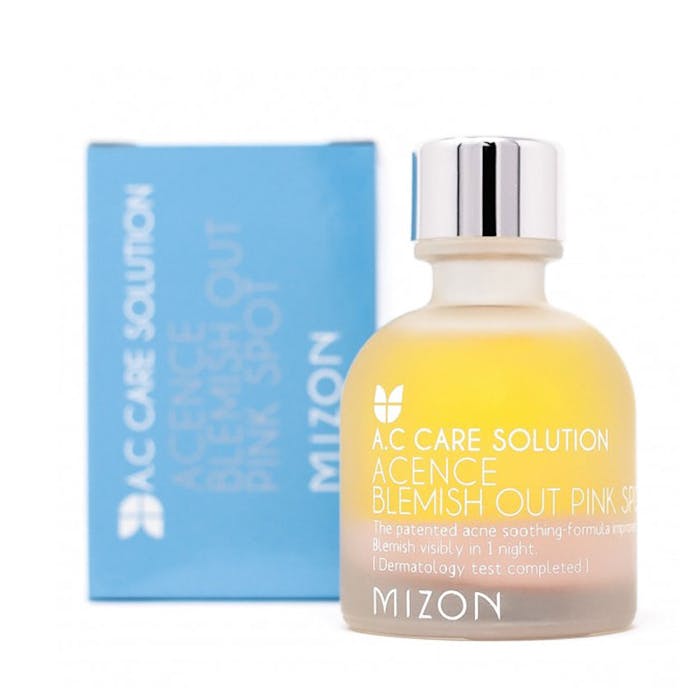 Mizon's Acence Blemish Out Pink Spot Treatment is described as being rich in anti-inflammatory and antimicrobial ingredients. The concentrated, bi-phase formula combines two solutions to alleviate and prevent the formation of spots.
The yellow solution combines alpha and beta hydroxy acids to exfoliate and slough away residue, blackheads and dead skin cells. The calming, calamine-based pink powder reduces redness and relieves irritation. Working in synergy, the layers are said to protect and calm the skin, drying targeted spots to promote a clearer, healthier-looking complexion within a day.
The treatment is used with a cotton swab, which is dipped into the bottle to apply the product to only affected skin spots. Suitable for all skin types, especially acne-prone skin, the treatment is touted as free from artificial color and preservatives. This column will review the ingredient listing for claims substantiation and functionality.
Base Formula
This product is a water-based system, containing the astringent ethanol, and propylene and butylene glycol as solvents. The humectant glycerin delivers skin hydration, while keratolytic alpha hydroxyl glycolic and beta hydroxyl salicylic acids harmonize keratinocyte shedding to prevent the blockage of sebaceous follicles and resolve inflammation.
Camphor is included for its cooling and antibacterial effects. Calamine, a combination of zinc and ferric oxide, suppresses skin itching. Titanium dioxide (CI 77891) is an opacifying agent and absorber. Finally, dimethyl sulfone is an antioxidant with anti-inflammatory properties and PEG-60 hydrogenated castor oil is a surfactant and solubilizing agent.
Natural Extracts
The formula also incorporates a mixture of several extracts. Rubus idaeus (raspberry) fruit extract acts as an anti-inflammatory and is implicated in wound healing. Coptis chinensis root extract has traditionally been used as an Asian anti-acne remedy.1 Portulaca oleracea extract has been reported to have anti-inflammatory effects in psoriasis,2 while Vaccinium myrtillus fruit/leaf extract can alleviate itching.3
Saccharum officinarum (sugar cane) extract, or brown sugar, has traditionally been used for the treatment of skin inflammation. Acer saccharium (sugar maple) extract has been used in  traditional Korean medicine to treat abscesses. In relation, maple extracts have more recently attracted attention for their anti-aging benefits.
Pinus pinaster bark/bud extract exhibits wound healing activity4 and Melaleuca alternifolia (tea tree) leaf oil has been used for more than 100 years in Australia as an antiseptic and anti-inflammatory remedy for the skin.5 Hedera helix (ivy) extract has reported anti-inflammatory properties, too.6 Finally, the citrus family of plants utilized—e.g., Citrus limon (lemon) fruit extract, Citrus aurantium dulcis (orange) fruit extract and Citrus grandis (grapefruit) peel oil—demonstrate antimicrobial and potentially sebum-suppressing activity.7
Conclusions
In my view, the ingredients address the three aspects of biology implicated in acne onset, bringing in anti-inflammatory, antimicrobial, keratolytic and potentially anti-seborheic properties. Therefore, the product is likely to be effective in the treatment and prevention of spot formation on skin.
Ingredients: Alcohol, Water (aqua), Calamine, Glycerin, Titanium Dioxide (CI 77891), Glycolic Acid, Dimethyl Sulfone, Camphor, Salicylic Acid, PEG-60 Hydrogenated Castor Oil, Rubus Idaeus (Raspberry) Fruit Extract, Propylene Glycol, Butylene Glycol, Coptis Chinensis Root Extract, Portulaca Oleracea Extract, Vaccinium Myrtillus Fruit/Leaf Extract, Saccharum Officinarum (Sugar Cane) Extract, Citrus Limon (Lemon) Fruit Extract, Citrus Aurantium Dulcis (Orange) Fruit Extract, Acer Saccharium (Sugar Maple) Extract, Pinus Pinaster Bark/Bud Extract, Melaleuca Alternifolia (Tea Tree) Leaf Oil, Hedera Helix (Ivy) Extract, Citrus Grandis (Grapefruit) Peel Oil
Source: www.peachandlily.com/products/acence-blemish-out-pink-spot
References