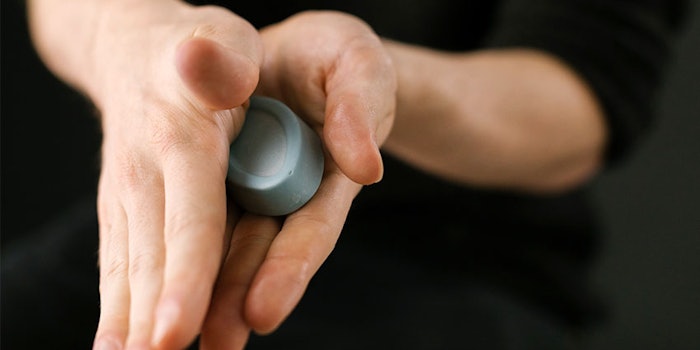 Lush.com
This 'Read the Label' looks at waterless formulating and reviews LUSH's Light Touch Solid Face Oil Serum to balance skin.
Related: Formulating on Trend: Waterless Cosmetics
Most people recognize a LUSH store once they have walked past it—a powerful kick of fragrance hits them and typically, people can identify the brand immediately.
LUSH began in 1995 in a coastal town in England. Liz Weir and Mark Constantine were two of the founders and had worked together for several years developing herbal cosmetic products. Mo Constantine, Mark's wife, became involved as she would help Mark and Liz make batches of products for The Body Shop.
The brand, known as Constantine & Weir back then, became quite successful. The brand sold up and Helen Ambrosen and Rowena Bird joined the business, and this is where LUSH was born. The brand is strongly against animal testing and only works with suppliers who can also support this ethos.
As the name suggests, this face oil/serum is a completely solid bar and falls under LUSH's "naked" category, which means it is sold as a totally package-free product. It looks like a bar of soap but once the product is worked onto the skin, using friction to raise the temperature, the bar begins to melt and leaves a light touch face oil/serum.
LUSH claims that this product promotes a clear, balanced complexion. It is rich in antioxidants, which protect skin against external stresses, and it also incorporates a toner with a moisturizer to leave the skin soft and rejuvenated after use. Other touted ingredients include: a fruity, floral fragrance to refresh the skin; Irish moss to soothe and soften skin; chamomile blue to calm and aid restful sleep; and witch hazel to tone and maintain clear skin.
Previously: Unwrapped Life: Package-, Plastic- and Water-free Products
To use the product, it should be glided across the skin and gently rubbed. Consumers can choose to warm the product first between their fingers and apply it from their fingertips if preferred. The product should be used after cleansing and stored in a cool, dry area or kept in a pot to avoid its melting on hot days.
Taken from the LUSH website, the ingredients below in bold are likely strongly contributing to the product's performance and claims:
Ingredients: Illipe Butter, Kaolin, Kokum Butter, Irish Moss Infusion, Meadowfoam Oil, Organic Jojoba Oil, Organic Cold Pressed Grapeseed Oil, Safflower Oil, Fair Trade Shea Butter, Silica, Perfume, Witch Hazel Extract, Chamomile Blue Oil, Lavender Absolute, Olibanum Oil, Geranium Oil, Myrrh Resinoid, Blue Spirulina Extract, Citral, Citronellol, Coumarin, Geraniol, Limonene, Linalool.
Editor's note: While the "Read the Label" series provides an overview of the ingredients cosmetic manufacturers use and their related claims, without use levels or access to clinical studies, the author is drawing conclusions based on speculation—albeit from training, formulating experience and, in some instances, evidence in the literature. The following is offered for your consideration and further verification.
Featured: [podcast] What it Means to Be 'Clean' in Beauty
Illipe Butter
This is a pale, off-white butter that comes from the nuts of the illipe tree (Shorea stenoptera). This tree is native to Borneo and can be more than 15 meters in height. Illipe butter is important to the Borneo rainforest as it is encouraging reforestation. The nuts of this tree fall to the ground and this natural process is the best way to obtain the highest yield of butter from the nuts.
Illipe butter is adding value back to the rainforest, which is being destroyed so quickly for unsustainable palm oil plantations. It has a melting point between 30-38°C, so the product melts perfectly on the skin to leave a matte, moisturized skin-feel.
Related: Forestwise Presents Organic RBD Illipe Butter
Because this material is first in the ingredients list, we can assume that it's being used in high concentrations to give a solid structure to this product. The correct INCI name for this butter is Shorea stenoptera seed butter.
Kaolin
Kaolin is a popular clay that is collected from different parts of the world. Depending on where it's found, it will be a different color such as red, green and purple, yet these different colored clays all have the same INCI name of kaolin.
In this product, I would assume that it's just white kaolin used to opacify the bar aesthetically. It looks homogenously mixed with no patches of materials.
Kaolin is porous and because of this, it will absorb oil from the product and the skin to reduce shine after using this product. It will also help to keep the solid bar dry. Kaolin can also help to improve the creaminess of a product.
Kokum Butter
From my research, I believe the INCI name for this ingredient should be "Garcinia Indica Seed Butter." This is a white to off-white solid butter, which comes from the nuts of the Garcinia indica tree, native to India.
It has a melting point between 34-40°C to impart additional firmness to the product to stop the entire bar from melting upon touch. On its own, this butter has a crumble-like texture, similar to cocoa butter, and contains high levels of stearic and oleic fatty acids, which are great for skin moisturization.
Irish Moss Infusion
This is Chondrus crispus or carrageenan—a red seaweed that is dried and then used in formulas as a thickening and suspending agent. The seaweed is known to survive extreme conditions and in this product, it is used to form a film on the skin and leave a soft feel.
Silica
Fumed silica is used to thicken anhydrous systems. It is a very lightweight powder that is often used in toothpaste for a slightly abrasive effect, or in powder systems such as loose foundations as an anti-caking agent. It helps to suspend particles, stabilize emulsions (Pickering emulsions) and keeps the ingredient in the bar homogenous.
Featured: A 'Mosaic' of Sensory Stimuli: Building Consumer Experiences
Witch Hazel Extract
Hamamelis virginiana is a commonly used ingredient for its astringent and anti-acne properties. It tightens the skin, which gives the appearance of closed pores, and is mostly used in toner formulas or anti-acne facial products.
Chamomile Blue Oil
Chamomilla recutita (matricaria) flower oil is a vibrant blue/green oil that is gives this product its color. It is known to have calming properties and can help to reduce skin irritation. It has a gentle chamomile fragrance that reportedly helps users fall asleep.
Myrrh Resinoid
Myrrh has a warm, woody and spicy fragrance base note and is a resin secretion of Commiphora trees, native to Africa and Asia. Myrrh (Commiphora myrrha resin extract) has natural antiseptic properties and also behaves as an astringent, so will work with the witch hazel to provide toning effects to the skin. LUSH states that their source of this material comes from Somaliland, where they guarantee fair prices for sustainable production.
Related: [video] SoapBottle Washes Away the Need for Packaging
Blue Spirulina Extract
Spirulina platensis extract is a natural vibrant blue-colored antioxidant that is trending at the moment as a whole food supplement, typically found in smoothies. It is known for its antioxidant properties to reduce free radical damage to the skin.
This moisturizer is available at various pharmacies and retailers. I paid £10.00 at Walgreens/Boots for 50 mL ($12 for 1.6 fl. oz.).
Source: LUSH

Disclaimer: This article was produced in the UK and therefore the INCI listing and INCI names comply with European labeling requirements.