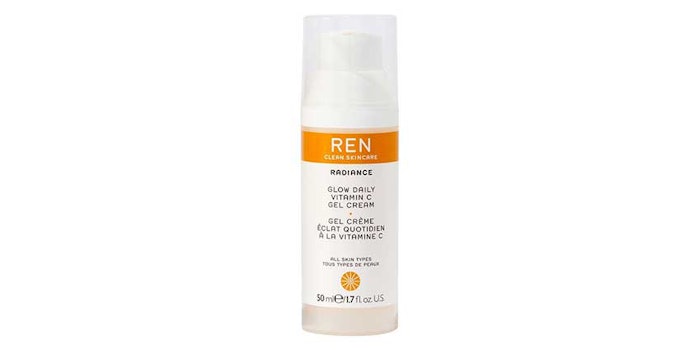 Ren Skincare
The focus of this "Read the Label" column is "clean" beauty; more specifically, "clean" skin care. The product under review is Ren Skincare's Glow Daily Vitamin C Gel Cream.
Related: Certified 'True': Green Virtues in Beauty, Part II
"Clean" beauty is such a popular cosmetic buzzword at the moment that it even has its own section in retail stores and online, too. But what does it actually mean? Well, there is no legal definition as it currently stands, but it generally includes:
A minimalist approach (small INCI listings);
Eco-friendly/ethical/sustainable;
"Free-from. . ." claims or contains 0%;
High naturality/green;
Low water/cold process/low energy production; and/or
"Safe" ingredients.  
Ren was an early adopter of the "clean" beauty trend, having used "clean skincare" since the 2000s as its tag line. The brand also claims to be "clean to skin and clean to planet." Its products are touted for incorporating ingredients that do not cause irritation, are from sustainable sources and are cruelty-free. As well as this, the company is aiming to become "zero waste" by 2021, when all of its packaging will be 100% recycled, recyclable and reusable.
The Daily Vitamin C Gel Cream is a light gel cream moisturizer that hydrates and plumps the skin. Ren claims the Tara Pod (diglucosyl gallic acid) extract within the gel cream reacts with the skin's natural microbiome to even the complexion, while the vitamin C illuminates and magnesium nourishes the skin. The overall effect is to create radiant and healthy-looking skin.
Previously: Ren Clean Skincare's Mattifying Face Sunscreen is Coral Reef-friendly
This product should be used morning and evening by gently massaging it into a freshly cleansed face and neck. The ingredients below in bold are the ones I believe are strongly contributing to the product's performance and claims:
Ingredients: Water (Aqua), Glycerin, Cetearyl Ethylhexanoate, Lauryl Laurate, Cetearyl Alcohol, Tapioca Starch, Ascorbyl Glucoside, Hydroxyacetophenone, Carbomer, Phenoxyethanol, Cetearyl Glucoside, Mannitol, Faex (Yeast) Extract, Citrus Grandis (Grapefruit) Peel Oil, Hippophae Rhamnoides Oil, Fragrance (Parfum), Citrus Aurantium Dulcis (Orange) Flower Oil, Tocopherol, Citrus Nobilis (Mandarin Orange) Peel Oil, Citrus Tangerina (Tangerine) Peel Oil, Diglucosyl Gallic Acid, Glycogen, Magnesium Ascorbyl Phosphate, Ammonium Bicarbonate, Glucose, Helianthus Annuus (Sunflower) Seed Oil, Rosmarinus Officinalis (Rosemary) Leaf Extract, Sodium Hydroxide, Citral, Limonene, Linalool.
Editor's note: While the "Read the Label" series provides an overview of the ingredients cosmetic manufacturers use and their related claims, without use levels or access to clinical studies, the author is drawing conclusions based on speculation—albeit from training, formulating experience and, in some instances, evidence in the literature. The following is offered for your consideration and further verification.
Tapioca Starch
Tapioca starch comes from the roots of the cassava plant and can be used as a thickener for food and cosmetics. It looks and feels like cooking flour with a chalky skin-feel but once added to a formula and heated, it thickens to boost the viscosity of the formula and helps to stabilize emulsions.
Starch is useful as a mattifying agent as it absorbs excess sebum and reduces any tackiness from the formula caused by humectants or UV filters. It is being used more frequently as a talc replacement.
Ascorbyl Glucoside
Vitamin C is well-known for its powerful skin lightening, anti-freckle, collagen boosting, anti-acne and dark patch-reducing properties. However, pure vitamin C (ascorbic acid) is incredibly unstable and begins to break down the moment it comes into contact with water—be that through the air or formulation.
Ascorbyl glucoside is a water-soluble vitamin C derivative with enhanced stability properties to provide the same benefits as pure ascorbic acid without having formulation issues.
This preservative booster allows formulators to reduce the levels of other preservatives that could potentially cause irritation or stinging effects on the skin. It's a powerful antioxidant that fights off free radicals whilst soothing the skin.
A source of nutrients for the skin including vitamins and flavonoids, this ingredient provides an antioxidant effect and reduces inflammation. It has humectant properties, too, which keeps the skin moisturized over long periods of time.
Hippophae Rhamnoides Oil
This is seabuckthorn oil. It has a vibrant red color, which is coloring this product slightly to give the gel a subtle orange glow. It also helps to hide discoloration from any vitamin C oxidation. The main benefits of this oil are its emollient properties, as it contains a high level of carotenoids, tocopherols and fatty acids.
This skin-brightening active is based on tara pod. Once applied to the skin, it is said to react with the surface microbiome and convert itself into another molecule to brighten and illuminate the skin. It reduces the appearance of dark spots and imperfections to leave a glowing appearance. As well as this, it's a powerful antioxidant that prevents UV-induced damage.  
Glycogen
This is usually animal-derived but in this case, it's coming from other sources. Glycogen is commonly used in anti-aging products as it reduces wrinkles as well as age spots. It works in synergy with hyaluronic acid and the two materials are often found together, although not in this case. 
Magnesium Ascorbyl Phosphate
Lastly, another highly stable derivative of vitamin C, magnesium ascorbyl phosphate is a phosphate ester of ascorbic acid with high heat and light stability. It's water soluble and doesn't provide the stinging sensation that pure ascorbic acid creates on the skin. Like vitamin C, it provides strong brightening effects, evens the skin tone and even helps to fade scar tissue.
Overall, it's great to see so many powerful active ingredients in this formula. It's quite expensive, in my opinion (it retails at £38 for 50 mL ($48 for 1.7 fl. oz.)) but from the list above, it's clear to see that this formula contains some high-end ingredients with proven efficacy.
Source: Ren Skincare

Disclaimer: This article was produced in the UK, therefore the INCI listing and INCI names comply with European labeling requirements.