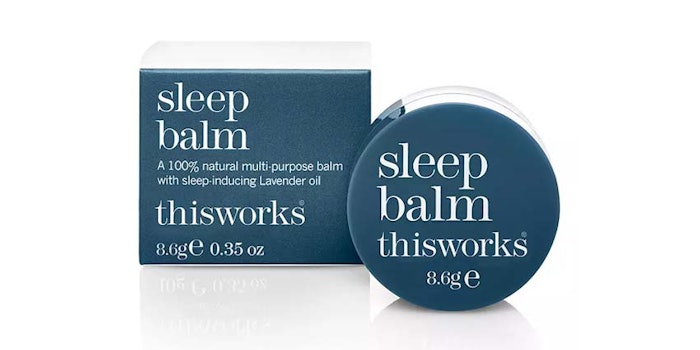 This edition of 'Read the Label' reviews This Works Sleep Balm. The brand claims the product, with its aromatherapeutic benefits, helps consumers unwind and enjoy a better night's sleep.
Related: Expert Opinions: Skin Care and Emotion
When stressed, the body produces higher levels of cortisol and adrenaline. These increased levels can lead to negative effects on the skin, such as blocked lymphatic drainage, increased skin aging and worsening of existing conditions; i.e., psoriasis or acne. Simultaneously, stress is well-known to be linked with sleep problems and not enough sleep contributes to further production of stress hormones.

In this "Read the Label" column, I will be focusing on skin care with emotion. The product in review is This Works Sleep Balm, which claims to be a 100% natural multipurpose balm, designed for use on the pulse points of the body as a relaxing and aromatherapeutic treatment. Once applied, the warmth of the pulse points releases a blend of lavender, monoi and coconut oils to help the body and mind relax before falling asleep. The product can also be used whenever feeling stressed throughout the day. The brand claims the balm helps to calm a busy mind, nourish skin and calm the senses to look fresh and revitalized by morning.

This product has a small INCI list; this is a trend that comes from the rise of "clean" beauty–consumers want to see fewer ingredients used in part so they can have a better understanding of the materials within their cosmetics. There are no preservatives in this formula, as they are not always essential to use in anhydrous formulas; however, it is the brand's responsibility to safety test the formula to ensure it is safe for consumers.
Below I have highlighted some of the key ingredients used within this product and have explained how I believe they are contributing to the product's performance:
Ingredients: Hydrogenated Vegetable Oil, Cocos Nucifera (Coconut) Oil, Gardenia Tahitensis Flower Extract, Euphorbia Cerifera (Candelilla) Wax Theobroma Cacao (Cocoa) Seed Butter, Rosa Centifolia (Rose) Oil, Fragrance (Parfum), Linalool, Tocopherol, Geraniol, Limonene.
Editor's note: While the "Read the Label" series provides an overview of the ingredients cosmetic manufacturers use and their related claims, without use levels or access to clinical studies, the author is drawing conclusions based on speculation—albeit from training, formulating experience and, in some instances, evidence in the literature. The following is offered for your consideration and further verification.
Hydrogenated Vegetable Oil
This ingredient is a blend of vegetable oils that have been hydrogenated, turning the oil into a waxy semi-solid. Hydrogenation prevents oils from going rancid as quickly because the extra hydrogen usually replaces a weaker double bond, which is more likely to oxidize. This waxy butter is the main bulk of the product and provides the semi-solid texture of the balm.   
Coconut Oil 
Coconut oil is one of the most popular emollients used in skin and hair care at the moment. It contains a high level of fatty acids to nourish the skin and is often solid at room temperature but melts upon contact with the skin. The oil is also often clear and colorless as well. Coconut oils vary from different manufacturers but usually the virgin grade contains a pleasant coconut aroma. 
Gardenia Tahitensis Flower Extract
Gardenia tahitensis is a white flower known to be Tahiti's national flower and native to Polynesia. The flowers are placed in coconut oil where they macerate to create a fragrance oil–monoi oil. Monoi oil has skin softening, moisturizing and nourishing properties. 
Euphorbia Cerifera (Candellia) Wax
The candelilla plant is often found in desert-like climates where it produces its waxy leaves. The wax is collected and processed to create a dark yellow block that is often broken down into pellets of flakes for ease of handling. It has gained popularity as a vegan alternative to beeswax with its similar melting point (beeswax is around 62-64°C and candelilla wax ranges from 68.5-72.5°C). Due to the high melting point, it is used to provide firmness to this balm. 
Theobroma Cacao (Cocoa) Seed Butter
Cocoa butter of course comes from the cocoa bean and is a pale-yellow fat often used in the production of chocolate. In its crude form, it contains a subtle cocoa aroma and is more of a yellow/pale brown. It is often refined, bleached and deodorized (RBD) and commonly comes in the form of solid blocks. Cocoa butter has an ideal melting point between 34-38°C, which means the butter melts as soon as it comes into contact with the skin, usually at 35°C externally.
Rosa Centifolia (Rose) Oil
The Rosa centifolia is also known as the cabbage rose or the Provence rose. It is a hybrid that has been bred from the Damascena rose. Rose oil is commonly extracted via steam distillation and this particular breed is known for its sweeter rose aroma. Like any essential oil, it should be added to the formula during the cooling stage just before the balm reaches its setting point. 
Fragrance (Parfum)
With this INCI name, you never really know what fragrances are used in a product just by looking at the ingredient list. Perfumery is an art that consists of layering various aromas to build a unique journey through smell. The fragrances used in this product play a key part in the product claims and without them, it would just be a nourishing balm to treat dry patches of skin. 
In-use Testing
I have found this product review quite difficult as it's a very simple formula and the main active ingredient, so to speak, is the fragrance that is subjective to the user. However, I am a fan of this sleep balm, especially with all the stress going on in the world right now in this uncertain time. I found the product helped me to unwind and help my mind switch off before bed.
The product has a powerful lavender base note, a middle note of rose and a top note of monoi oil. The fragrance is intense and as the product melts on your skin over time, it continues to release bursts of aroma. Not only did I use this before bed, but I also used it during work hours and from time to time, would place a small amount on the pulse points of my wrist when I felt a little stuck or lacking inspiration. In my view, it helped clear my mind and allowed me to concentrate on tasks more efficiently.
The balm is a little greasy and I found that after applying to my wrists and then typing an email, it would leave a little residue on my desk. I then began applying it to the pulse points on my neck, which worked well for me. 
This Works Sleep Balm is retailed at £12 ($17) and is available online. There is also a This Works Deep Sleep Pillow Spray, which I believe has a similar aroma to this balm for those wanting to explore a de-stress product and who don't like a balm texture. 
Source: This Works

Disclaimer: This article was produced in the UK and therefore the INCI listing and INCI names comply with European labeling requirements.