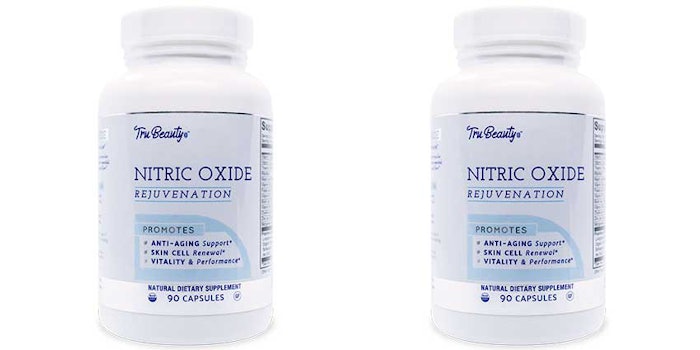 TruBeauty
Nitric Oxide Rejuvenation from TruBeauty is a dietary supplement that reportedly utilizes the functions of the nitric oxide pathway to help the body with nutritional absorption.
Related: TruBeauty Recovery Pro Nitric Oxide Pathway
TruBeauty's nutricosmetic is formulated to help the body by targeting important nutrients to build healthier cells from within. Specifically, the supplement is said to support the production of nitric oxide as a bio-identical therapy, to improve the body's ability to absorb essential nutrients for targeted purposes.
As the company explains, nitric oxide is a gas synthesized from the amino acid L-arginine by a group of enzymes known as nitric oxide synthases and was recently found to be a signaling molecule in the cardiovascular system. This molecule enables the trillions of cells in the body to communicate with each other, and has been shown in more than 60,000 studies to regulate blood pressure, enhance blood flow, and increase oxygen and nutrient uptake.
According to the company, nitric oxide precursors are necessary to facilitate the maximum absorption of nutrients. As such, the product is designed to deliver precursor amino acids such as L-arginine and L-citrulline to support healthy cells, increase blood flow and balance overall well-being.
Previously: Pneuma Nitric Oxide-generating Serum Shown to Improve Acne and Scarring