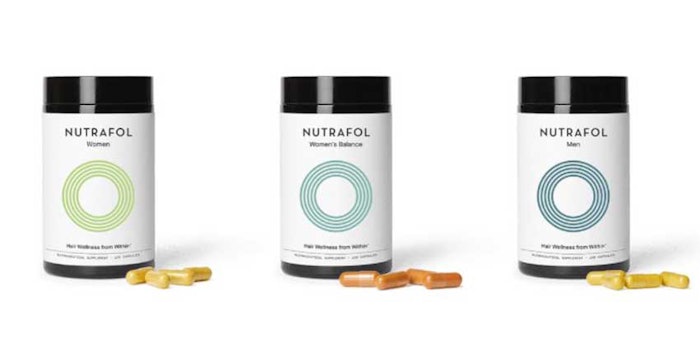 Nutrafol
Nutrafol announced it has been awarded a patent for its Synergen Complex—a proprietary blend of clinically effective, standardized, medical-grade botanicals formulated in ratios that target the root causes of hair thinning in men and women.
Related: Nutrafol Anti-hair Loss Supplements for All
According to the company, patents in the supplement space are rare due to the difficulty in proving the effectiveness of a combination of botanical ingredients. This combination of bioactives addresses stress, hormones and nutrition with adaptogens, antioxidants and DHT-targeting botanicals. 
The Synergen Complex is the foundational formula in Nutrafol's three core products: Nutrafol Women, Men and Women's Balance. These products have reportedly been shown to improve hair growth and reduce shedding in four clinical studies.
Nutrafol's holistic approach to hair wellness has centered around extensive research and testing to prove the efficacy of its products. The company has leveraged more than 10 patents on the extraction methods for its ingredients, in addition to this Synergen Complex development.
"We have been determined to deliver the most natural and effective products possible," said Giorgos Tsetis, CEO and co-founder of Nutrafol. "The Synergen Complex patent further validates the importance of our holistic, whole body approach to hair health and continues to set the bar higher for efficacy in the supplement industry. Nutrafol's patent is a significant achievement for our company and for the hair wellness category as a whole."
"At Nutrafol, we're committed to staying at the forefront of science, ensuring all of our products are backed by clinical studies to best support our customers as they navigate their personal hair journeys," Roland Peralta, chief innovation and product officer and co-founder of Nutrafol, added. "We have persevered through countless clinical trials and testing to secure the Synergen Complex patent. As proponents of holistic wellness, proving the efficacy of our proprietary blend is imperative to furthering innovation in hair science and continuing to deliver on the promise we've made to our users."