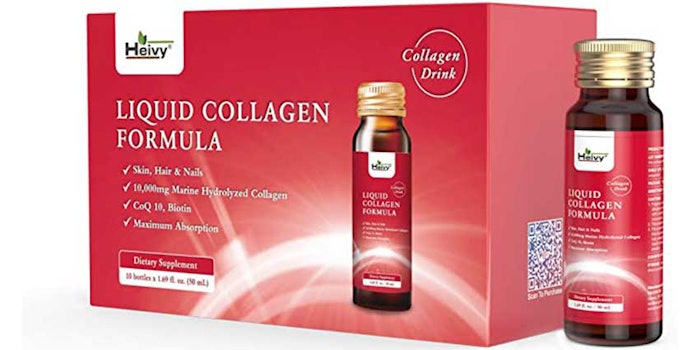 Heivy's Collagen Collection is a bottled supplement that contains a liquid form of marine collagen to aid in anti-aging, sleep, wellness, mood-boosting and other benefits from within.
Related: Indigo Marine Collagen Prevents Aging Through Protein Powder
Heivy has decided to approach the way consumers can ingest collagen by putting it in a liquid format, which can become an on-the-go drink by itself or can be mixed in with juice, a smoothie and tea.
Made from marine collagen, Heivy has a variety of bottles for different benefits: Protect Skin and Heart Health; Revive Skin, Hair and Nail Repair; and Fortify Skin, Joint and Bone Strength.
With that, the company will also be adding a new collection that will be available in August, Uplift and Lullaby. These additions to the liquid collagen collection use the same proprietary marine collagen as the original line but include mood-boosting and sleep-supporting elements. Uplift is aimed to "uplift" mood and for stress and anxiety relief, while Lullaby has melatonin added to help with sleep and skin repair.
Each collection contains at least 5,000 mg of collagen and comes with 10 bottles per box.
Ingredients (Revive Skin, Hair and Nail Repair): Marine Collagen, Vitamin C, Vitamin E, Coenzyme Q10 <3.
Source: Heivy