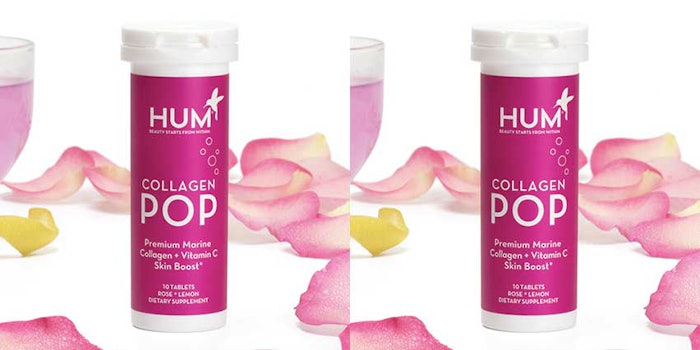 Hum Nutrition's Collagen Pop is a fizzing tablet that dissoves in water to help maintain skin hydration, elasticity and firmness.
The daily supplement contains marine-sourced collagen (type 1), along with a combination of hydroxyproline, glycine and proline to support the natural collagen synthesis process in skin cells. The tablets also include vitamin C to brighten and firm the skin.
Research from the brand found that 68% of users experienced an improvement in fine lines, wrinkles, hyperpigmentation, texture, tone and smoothness after taking the product for 4–8 weeks. Hum suggests taking one tablet per day, dissolved in 8 oz water.
Ingredients: Premium Marine Collagen, Vitamin C (Ascorbic Acid), Sodium Bicarbonate, Potassium Bicarbonate; Other Ingredients: Citric Acid, Natural Flavors, Corn Starch, Monkfruit, Stevia, Rose Petals