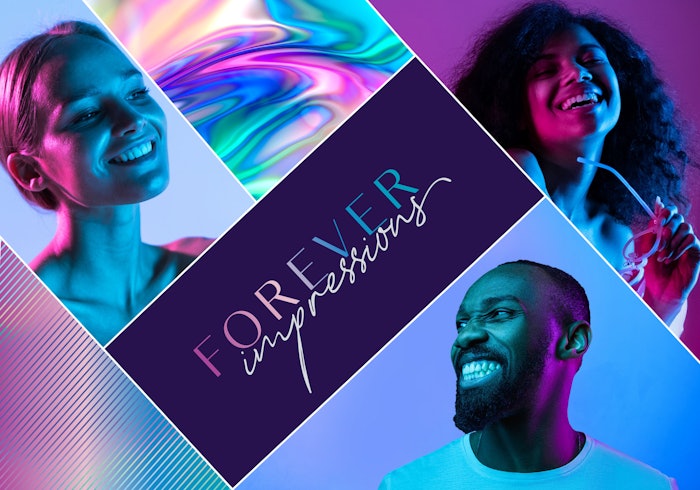 Image source: Univar Solutions
Univar Solutions has curated its Forever Impressions collection to encourage consumers to embrace their natural beauty.
Previously highlighted: TeamWorks 2022: Natural, Sustainable and More in the 'New Normal' 
The Forever Impressions collection contains a range of formulations that have been updated to feature more sustainable ingredients and nostalgic textures that encourage overall well-being. 
The following are the updated formulations, which are said to be exhibited at in-cosmetics Global:
Just Marvelous Glitter Lash Topper: This cream-based glitter enhanced, conditioning wand can be used with another mascara or alone. Users can add one, two or three coats to add extra emphasis on the lashes.
Get Red-y Statement Gloss: This vegan gloss imparts sheer moisture and a non-sticky gel texture that can reportedly match all skin tones This formula delivers plumping hydration and nourishment for smoother, more supple lips with fewer fine lines.
Timeless Tonic Foaming Face Serum: According to Univar, it has found an easier way to apply facial serums while conserving product and ensuring all areas of the skin are applied. The Timeless Tonic starts as a thin liquid and creates a light cloud-like foam that is easy to apply. The cloud-like quickly dissipates once applied, leaving all the actives exactly where the consumers are targeting on the skin.
Pearls of Wisdom DIY conditioner: This DIY solid conditioner is waterless and can be customized to meet hair needs. Simply add hot water to the beads and mix. Users can choose their booster, mix it in and massage it onto wet hair to optimize product soakage. 
Shine Shot Hair Glow Potion: This shine-enhancing smoothing serum is focused on fighting frizz. It helps detangle, smooth dry ends and frizz, and reportedly does not weigh down the hair. It also moisturizes and protects hair from heat and color damage. Add this product to damp hair just after the shower along the length of the hair and the ends.
Frill Seeker Cryo Gel-Cream: This cooling gel cream revives the senses and skin as it moisturizes dry skin with a light non-sticky formula that glides and quickly absorbs. It contains natural cooling agents to give it a fresh effect.
Strokes of Velvet BB Crayon: This light, creamy and nude coverage stick can be applied across the face to give a no-makeup look with a dewy finish. The texture is rich and melts into the skin, spreading easily. It's a multi-functional crayon, formulated with soothing and nourishing ingredients, and pigments that smooth out the complexion.
Smooth Operator Beard Oil: The Smooth Operator hair and beard oil is gentle on the skin, yet delivers conditioning and definition effects. It also features natural oils to condition and soften the hair to give it a luxurious feel.
Coming Clean Body Buffer: This multi-faceted body scrub buffs away dead skin leaving smooth, silky, baby soft skin. The added fragrance is said to promote the feeling of nostalgia.
First Responder Hair Mask: This hair mask is said to be a recovery hair solution as it deeply repairs and restores tresses from damage. Applied once a week, this deep conditioning and strengthening hair mask treatment is reported to help split ends.