During the Midwest SCC Teamworks 2022, companies such as Evonik, Active Concepts, Univar Solutions and others presented various ideas on naturality, sustainability, cleansing, silicones and more in the "new normal." 
Featured: Is Natural Rational? A Discourse in Support of Evidence-based Formulating
Biosurfactants Across Personal and Home Care
Brian Yang, Ph.D., applied technology manager of Evonik presented sustainable solutions for home and personal care products in the "new normal." In response, scientific innovations are helping to drive a generation of chemistry based on fermentation-based ingredients at a commercial scale.
The first area of sustainable solutions, as Evonik has pointed out, are surfactants through the ascendancy of biosurfactants as viable solutions for cleaning and cleansing products. Rhamnolipids are surfactants based on sugar feedstocks that present high sustainability profiles, as well as low skin irritation potential. They also deliver effective performance across several applications, including hair care, skin cleansing, laundry and hard surface cleaning. This presentation provided an overview of rhamnolipid biosurfactants and their benefits across home and personal care applications. 
Natural Preservation in Consumer Care Formulations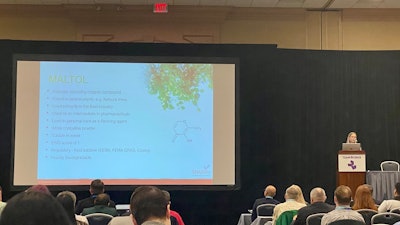 Laura Mills, business development of Sharon Labs North America, discussed preservation in natural formulas in cosmetic, personal care and home care and pointed out how this can be challenging as the propensity of microbial risk with natural ingredients is much greater.
The search for a broad spectrum and high efficacy natural preservation across all market segments such as sun care, wet wipes, skin care is an ongoing industry movement and focus. Consumer care companies are responding to a longer "no-no" list, moving away from more traditional ingredients, preservation systems, PET wet wipe fibers, as well as filling in a recycled or a more biodegradable package.
The growing consumer demand for clean label and more sustainable, eco-friendly brands creates added formulation obstacles for the formulator and manufacturer. To date, the quest to deliver a cleaner ingredient label often results in an overengineered natural preservation solution leading to formulation instability, skin sensitivity and increased microbial contamination.
This presentation addressed the main challenges in the preservation of natural and clean-beauty consumer care products considering ingredients choice, skin sensitivity, regulatory aspects, sustainability and product claims. It also explored effective natural preservation systems with a deep dive into the mechanism of action.
What Sustainable Options is the Consumer Demanding?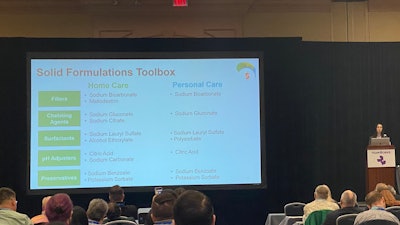 Vanessa DeMarco of Stepan Co. dived first into market insights from Mintel. According to Mintel, sustainability claims represent some of the fastest-growing claims for new product launches in both personal care cleansing and home care cleaning categories.
Brands are introducing new sustainable formulation concepts including solid, powdered and concentrated formats—these improve sustainability by reducing as much water as possible from the formulation itself, enabling lower energy and water use throughout the manufacturing and supply chain process.
These types of products often require a new toolbox of ingredients and present challenges to the formulator. This presentation discussed the important considerations to formulating stable, high-performing solids and powders for both personal care cleansing and household cleaning products.
The Safety and Sustainability of Silicone Materials
Sam Costanzo, associate research scientist of Dow Personal Care, discusses silicones as these materials are well aligned with safety and sustainability trends in the cosmetic industry. The industrial production of silicone uses naturally occurring materials–sand and sustainable forestry–as key raw ingredients. Investments in clean energy will further reduce the greenhouse gas emissions associated with manufacturing silicones.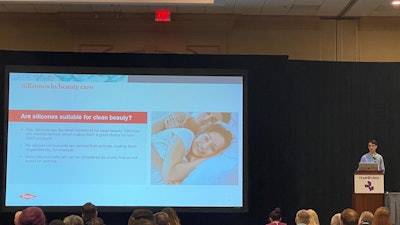 The degradability of silicones in the environment is another sustainability benefit silicones offer. Even though silicones do not biodegrade, they are expected to degrade primarily through non-biological mechanisms such as hydrolysis or photolysis into silica, silicic acid, and carbon dioxide. Additionally, silicones are non-GMO and vegan. Silicones also have a long history of safe use in personal care applications. Silicones are breathable, non-comedogenic, and non-allergenic; they are also safe for use near sensitive parts of the body such as the eyes and lips.
Outlined were key points about silicones, which were that silicones can be a part of the clean beauty movement; do not clog pores or cause acne; and do not block moisture from entering skin and hair. Silicones can be a part of the clean beauty movement as they are mineral-derived, which makes them an ideal choice for non-GMO products. Additionally, no silicones are derived from animals, making them vegan-friendly. 
Then, silicones are inert, non-reactive materials that have proven to be non-comedogenic and are extremely safe for topical use. Several silicone materials have proven to be non-comedogenic and no silicone derivatives are listed on American, European and British allergen lists. They do not promote bacterial or other microbial growth and do not impact the natural breathing function of the skin, making them ideal additives for foundations and other long-lasting personal care formulations. 
Finally, silicones no not interfere with the breathability of the skin and the scalp. Silicones are permeable to water vapor and oxygen. In fact, films of common siliocnes on a skin-mimicking substrate show nearly 100% permeability, referenced Sam Costanzo. Silicones do not prevent cosmetic bioactive or other actives from penetrating the skin. On the contrary, studies have been reportedly shown that silicones can contribute to the delivery of vitamin C, niacinamide and other actives. 
A Holistic View to Sustainability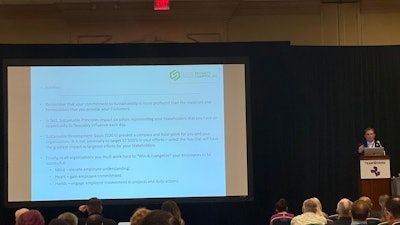 Mark Miller, head of sustainability at NAGASE Specialty Materials, has noted how sustainability is more than synthesizing, sourcing and formulating with renewable materials, reducing waste and optimizing your value chain in the personal care, home care and food market segments–it is a holistic approach and commitment to the stakeholders that you, an organization and products impact.
The purpose of this presentation was to examine how organizations can deploy a holistic approach to sustainability in product creation for relevant customers and market segments with activities that touch six relevant pillars related to the United Nations Sustainable Development Goals (SDG's).
Supply Chain Issues in the "New Normal"
Durant Scholz, president and co-founder of Active Concepts, LLC, discussed supply chain issues while navigating in the "new normal."
Related: Responsible R&D: Tips to Make Cosmetic Labs and Manufacturing More Sustainable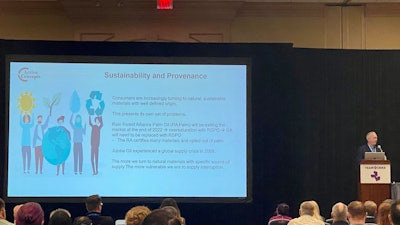 Scholz presented, "Consumers are really interested in sustainability and traceability. . . what's the larger issue is palm oil. You have a lot of people making label claims on consumer products. Well, you know, the Rain Forest Alliance decided there's bigger fish to fry and they weren't interested in certifying palm anymore. So they're not going to continue to have certification."
"What are all those companies do that have built their brands that are in palm? That's done. I think we need to really continue with consumer education and maybe farm-level specificity is not the way to go. Maybe overall growing practices put this lack of the industry being proactive, educating the consumer and nd just taking advantage of consumer—it hurts us in the long run."
"We can really develop adequate inventory levels to prevent shortages with transparency. It's got to be a two-way street. If we're not open and transparent with people, we cannot expect them to be properly prepared to support you either as a consumer or as a supplier."
"Companies need to be able to differentiate distributors for manufacturers. This ties back into the education level. If you're a chemist, and you're working with the material and you don't know how it's made—you're not doing a good job. You should know where it comes from, how it's made, where it goes, etc."
Future of Cleaning: The Enzymatic Solution
Brandon Beyer, application development specialist Univar Solutions North America, discussed the need from the consumer market for sustainable products. Today's formulators are challenged with a need to maintain performance in the face of decreasing wash temperatures, sustainability goals and a need to concentrate existing products.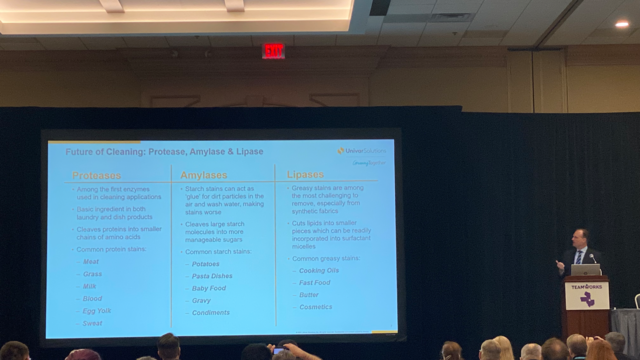 "Future of Cleaning: The Enzymatic Solution" with Brandon Beyer, application development specialist of Univar Solutions North America.Michele Behrens, Cosmetics & Toiletries
New cleaning chemistries are constantly innovated but few have the broad-ranging potential of enzymatic solutions. Whether the enzymes are added directly to a product or generated overtime via a microbial solution, nature's cleaning ability to address common soils is unsurpassed.
Beyer presented the benefits of several classes of enzymes ranging from older technologies such as protease and amylase cleaners, to phosphodiesterase's removal of extracellular DNA. Additionally, Beyer explores the formulator's selection process for direct enzymatic solutions versus enzyme-generators such as microbial cleaners. Lastly, guidelines were offered in formulating with both enzymatic and microbial cleaning products, highlighting formulation pitfalls and application areas best suited for the technologies.
SenStories Selector Tool
Finally, Mara Crespo-Webb, key account manager of Croda, discussed its latest technology SenStories Selector Tool. SenStories utilizes reliable and reproducible methodology to connect insights on consumer perception and language choice with the knowledge of ingredient combination and colloidal structure that are responsible for a given sensorial feel.
This enables predictive ingredient selection for formulations development with targeted sensorial experience. The development of the SenStories Selector tool helps formulators to discover suitable o/w emulsifier system recommendations for the development of skin care formulations with targeted sensories, ensuring alignment with consumer expectations.