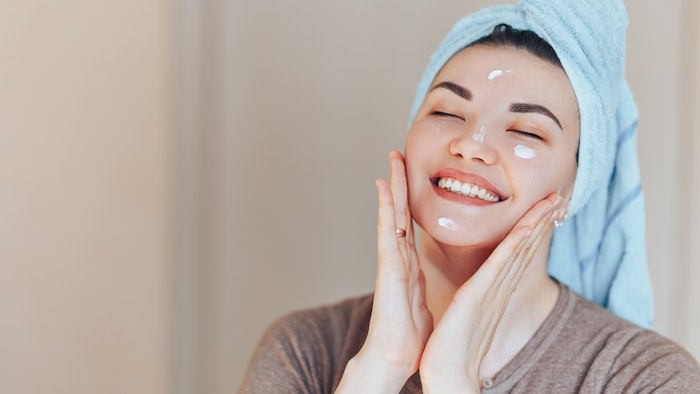 PPhoto 141240627 © Anastassiya Bezhekeneva | Dreamstime.com
Croda Personal Care has launched the SenStories Selector, a tool available on its website that has been designed to guide users to the ideal emulsifier for their skin care formulations.
Related: Croda, Crodarom, Sederma and Alban Muller Showcase Latest Actives and Formulations
This tool links the consumer with formulators to provide sensory observations. The SenStories Selector utilizes methodology to connect insights on consumer perception and language choice with the knowledge of which ingredient combination and colloidal structure are responsible for a given sensorial experience.  
The understanding gained by using the tool can help enable predictive ingredient selection. By allowing the development of formulations with a targeted and desired sensorial profile, valuable development time can be saved, offering the formulator a head start in the product development process.
The data that informs the tool has been generated through the exploration of how two groups of consumers perceive the touch-sensory characteristics of a range of skin care formulations. The consumers were based in either Singapore or France, thus providing insight into two prominent yet culturally opposing regions in terms of consumer beauty routine.
Using consumer analytical tools, any correlations or differences between the descriptive language used by each consumer set (the sensorial semantics) and the technical sensory language (the sensorial syntax) were identified. The SenStories Selector tool was then developed using a proprietary algorithm to offer users a quick and easy way to discover o/w emulsifier systems based on the desired sensory of their target consumer.
Previously: Study Finds Sustainable Thermoresponsive Whey Protein- and Chitosan-based O/W Emulsion Possibilities
To use the tool, formulators simply select the consumer set they wish to explore and then one or two of the semantics options (consumer language descriptors) relating to their target sensory profile. Additional refinement of ingredient recommendations can consider regulatory restrictions or ingredient accreditations that may be of interest.