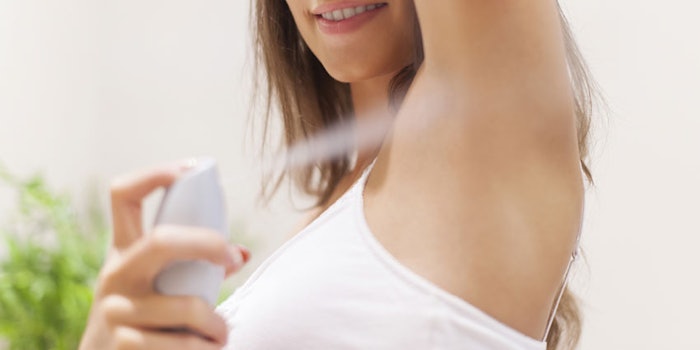 Finished product developers continue to chase moving consumer targets. Thankfully, supplier companies are making moves to keep them one step ahead. Take these three inventions, presented by Chemyunion during in-cosmetics North America, which include: a shield to retain water content in hair, protecting it from damage; a natural functional xylitol ester for antiperspirants; and a triple-benefit makeup remover in stick format. 
Damage Control
ThermoShield (INCI: Water (aqua) (and) Polyquaternium-7 (and) Panthenol (and) Fibroin (and) Sericin (and) Hydroxypropyl Starch Phosphate) is described as a heat protection active with a mechanism that traps water inside the hair fiber. According to the company, this creates a heat barrier, shielding hair against blisters, fissures and other damage, without compromising styling.
The company reports the active: retains 24% more water inside the hair strands; keeps the hair temperature 16% lower, preventing overheating; and preserves cuticle integrity. Further, is was shown to boost straightening effects by 23% after 24 hr.
Alternative 'Planti-perspirant'
Hebeatol Plus Deo (INCI: Xylityl Sesquicaprylate) is a functional xylitol ester, reportedly with potent antimicrobial and deodorant activity. It was designed as a substitute for traditional deodorant formulations. (Editor's note: So, technically, not an antiperspirant, as the title we have given suggests.)
According to the company, global sales of deodorants reached US $21 billion in 2017, with an expected minimum annual growth of 5%. The U.S. is the market leader in this segment, followed by Brazil, representing 16.5% of the market share in this category. While farnesol and triclosan are among the main components of deodorants in the market, studies have questioned their safety. As such, the development of new molecules such as this xylitol ester offers a safe substitute.
Hebeatol Plus Deo is of vegetable origin; obtained from xylitol and caprylic acid. Xylitol is a pentol sugar whose main industrial source is grain byproduct (i.e., corn cob). Caprylic acid is obtained from plant-based oils extracted in a sustainable way and certified by the Roundtable on Sustainable Palm Oil (RSPO). In addition, the synthesis route to obtain the ingredient meets most requirements for ecologically-friendly process, generating a 100% biode-gradable molecule.
The company proposes the ingredient's mechanism of action is through its nonionic surfactant molecule reducing the surface tension of liquids and increasing the solubility of materials. This, in turn, reduces the adherence of microorganisms to the skin. It also interacts with lipids and proteins of the cell membrane of the microorganisms, generating lysis. As a result, it has been shown to eliminate 99.9% of odor-causing microorganisms. It also can act as an emollient, solvent, solubilizer and coemulsifier.
Makeup, Erased
Finally, Chemyunion presented its Makeup Eraser concept: a nonirritating makeup remover in a stick format, designed as a leave-on product. Users apply the product, wipe away makeup and leave behind a nongreasy, moisturizing formula that restores the skin barrier.
According to the company, this concept meets the needs of three consumer drivers: convenience, on-the-go and athleisure. The no-rinse stick is easy to carry, can be used quickly and offers a novel format with added benefits.
Its composition easily dissolves makeup pigments thanks to ingredients including Chemysoap S 3R (INCI: Sodium Astrocaryum Murumuruate (and) Disodium EDTA) and Sensactive L-30 (INCI: Water (aqua) (and) Sodium Lauroyl Sarcosinate), which also add moisturizing and skin barrier restoration benefits.
Notably, the Makeup Eraser concept won the Gold Spotlight on Award 2018 during in-cosmetics Latin America. For more information, visit the company website.