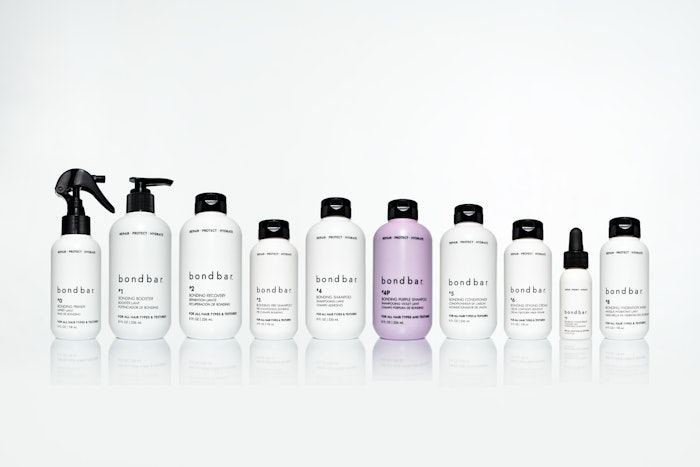 Sally Beauty is expanding its Bondbar hair repair system—which is designed to help strengthen hair, reduce breakage, moisturize and repair highly damaged hair—with six new products.
The bond-building line first launched in October 2022 with No. 3- Bonding Pre-Shampoo, No. 4- Bonding Shampoo, No. 5- Bonding Conditioner and No. 6- Bonding Styling Cream.
Bondbar's bonding technology works by penetrating deep into the hair cortex, creating new hydrogen and ionic bonds that support and restore the internal keratin structure. This is said to provide improved strength and manageability for damaged hair.
The new products include:
No. 0 Bonding Primer: 

Helps reduce breakage after one use (when used in a system with No. 3), great at home pre-color treatment.

No. 1 Bonding Booster: Helps reduce damage during bleach and color treatment.

No. 2 Bonding Recovery: Improves detangling by up to 90% after just one use. A pro-quality treatment to protect hair from damage during color, lightening and relaxing.

No. 4P Bonding Purple Shampoo: Neutralizes brassiness after one use.

No. 7 Bonding Concentrate: Visibly increases shine, minimizes flyaways and protects against heat damage up to 450F/230C.

No. 8 Bonding Hydration Mask: Improves wet detangling by up to 90% after one use. It's for all hair types and very hydrating but does not weigh hair down.
The expanded line will be available February 1, 2023 at Sally Beauty retail locations and at SallyBeauty.com.