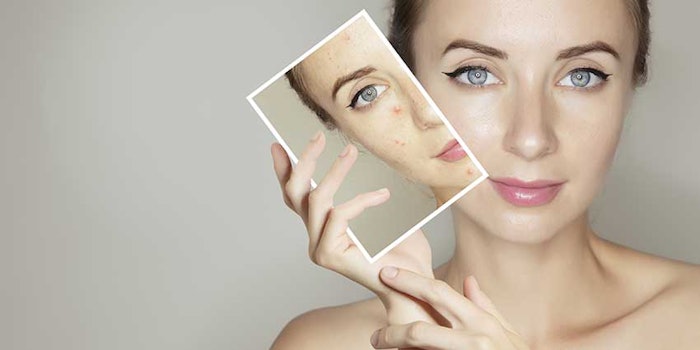 Dermatology.com has expanded its product offerings with four scalp and skin care products; specifically a shampoo, an anti-aging cream and acne solutions in tablet and facial wash form.
Related: Vantage Unveils 'Clear' Solutions for Skin
The Renova anti-aging cream contains tretinoin at 0.02%. When used topically, it activates vitamin A receptors below the skin's surface to diminish the appearance of fine lines and wrinkles, when properly used with a skin care regime. In a clinical study, after 24 weeks of consistent use, two-thirds of subjects claimed to experience the diminished appearance of wrinkles.
The Loprox shampoo contains ciclopirox at 1% to help with Seborrheic dermatitis. Ciclopirox is an antifungal agent meant to soothe scaly patches, redness and dandruff. These antifungal properties can also be used to treat infections such as athlete's foot, jock itch, ringworm and yeast infections.
Solodyn contains minocycline hydrochloride. The extended release tablets are a prescription antibiotic used to treat severe Acne vulgaris and red bumps by reducing the number of acne-causing bacteria on the skin to accelerate wound healing. Because it is typically used for severe acne, it is not recommended for acne that is not inflamed.
Also related: Bayer and Azitra to Jointly Identify Bacteria Driving Acne, Dermatitis
Finally, BenzEFoam is a 5.3%/9.8% benzoyl peroxide emollient foam and unlike the other products, it is available over the counter. It is produced in two forms—BenzEFoam and BenzEFoam Ultra, designed to cleanse the skin. The difference is the BenzEFoam is a lower active strength (5.3%), meant for mild to moderate acne. The Ultra form contains the active at 9.8%.
In relation, recently, a non-reimbursed dermatology cash-pay prescription program was implemented by Dermatology.com and Ortho Dermatologic. The telemedicine platform allows patients to directly receive brand-name, U.S. Food and Drug Administration (FDA)-approved treatments. Customers are advised to research product offerings, consult a doctor for a professional diagnosis, then with the given prescription, purchase products online for direct delivery.
More information can be found at Dermatology.com.