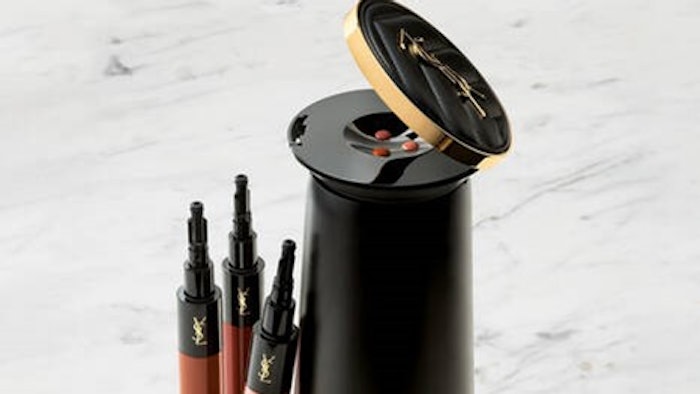 Editor's note: While the "Read the Label" series provides an overview of the ingredients cosmetic manufacturers use and their related claims, without use levels or access to clinical studies, the author is drawing conclusions based on speculation—albeit from training, formulating experience and, in some instances, evidence in the literature. The following is offered for your consideration and further verification.
In this "Read the Label," the focus is on technology in beauty, specifically related to personalization. The product under review is YSL's Rouge Sur Mesure Device, which is a machine that allows users to create their shade of creamy, velvet liquid lipstick. 
Related: [video] GoPlay Cosmetics Promotes Playing with DIY Liquid Lipstick
Yves Henri Donat Mathieu-Saint-Laurent began his fashion journey working at Dior. He quickly progressed up the ranks and by 21, he became head designer. Eventually, he went on to create his fashion empire in the early 1960s and from there, the house of Yves Saint-Laurent (YSL) was born.
YSL is world-renowned for its high-class ready-to-wear and haute couture clothing, but the brand also expanded into cosmetics in the 1980s-1990s and has since licensed this part of the business to L'Oréal. 
Product Claims and Use
The claims the brand makes about this product are that users can play with more than 1,000 lip shades. There are four color cartridge packs to choose from (reds, oranges, pinks and nudes) and each pack can create over 1,300 new shades using the device. Additionally, an app is paired with the device so users can use AI to see a camera view of themselves wearing a new shade of matte liquid lipstick before going on to create the shade they desire. This function is called, "Get the Look," but there are other features, too, such as "shade palette," "shade match" and "YSL shade stylist," which picks a shade based on your outfit–you can choose to match or clash. 
To use the device, Rouge Sur Mesure is turned on and the cap from each cartridge is removed. Then, the base of the device is slid to insert the three cartridges in their chambers until they click into place. The Rouge Sur Mesure app will recognize each cartridge and initiate a priming protocol. Once confirmed in the app, users can begin to create custom lip shades. After creating a target shade, the retractable lip brush is used to thoroughly mix the dispensed formula and using the tip of the brush, the lips are lined just as one would with a pencil. Finally, the brush glides color across the lips to complete the application.
Reviewing the ingredients inside the orange cartridge liquid lipsticks, the ingredients below in bold are ones I believe are strongly contributing to the product's performance and claims:
Ingredients: Dimethicone, Bis-Diglyceryl Polyacyladipate-2, Diisostearyl Malate, Hydrogenated Polyisobutene, Dimethicone/Vinyl Dimethicone Crosspolymer, Phenyl Trimethicone, Talc, HDI/Trimethylol Hexyllactone Crosspolymer, Dimethicone Crosspolymer, Vinyl Dimethicone/Methicone Silsesquioxane Crosspolymer, Isostearyl Isostearate, CI 77891/Titanium Dioxide, Mica, Polyethylene, Nylon-12, Alumina, Pentylene Glycol, Polymethylsilsesquioxane, Hydroxyacetophenone, Caprylyl Glycol, Ethylhexylglycerin, CI 45410/Red 28 Lake, CI 19140/Yellow 5 Lake, Silica, CI 15985/Yellow 6 Lake, Aluminum Hydroxide, Pentaerythrityl Tetra-Di-T-Butyl Hydroxyhydrocinnamate, Benzyl Alcohol, Tocopherol, Anise Alcohol, Fragrance (Parfum).
Dimethicone
Dimethicone is the bulk of this formula and creates the soft, liquid texture. Dimethicone is a general INCI name for a variety of silicone products; usually a chemical structure with methyl groups attached to a siloxane backbone. Depending on the chain length and positioning of the methyl groups, this affects the viscosity of the product.
Featured video: Personalized Product Development in Beauty
Dimethicones are mostly used for their amazing skin feel but they have other benefits, too. For example, lower viscosity grades, such as a 0.65 cSt, can be extremely volatile and help a product dry quickly; 350 cSt is a commonly used viscosity grade as it has a similar viscosity to water but is just slightly thicker, which can produce rich, soft and glossy emulsions.
Bis-Diglyceryl Polyacyladipate-2
This waxy ester helps bind the liquid lipstick formula together, which then easily shears upon force such as mixing and/or insertion of the wand applicator, or at temperatures around 40°C. It's a vegan alternative to lanolin and helps to reduce TEWL, creating a soft-feeling balm base and improving spreadability. 
Diisostearyl Malate
When formulating, pigments can be tricky to incorporate as they are often hydrophobic. Diisostearyl malate is a wetting agent, which helps to wet and disperse pigments evenly into the formula. This ingredient also is used in color cosmetics as a binder, to hold the formula together and prevent phase separation. 
Hydrogenated Polyisobutene
This ingredient is a clear, colorless oil that is often used in the base of lip glosses. Hydrogenated polyisobutene is a cost-effective ingredient to increase shine and moisturization, all while providing waterproofing effects. This material is of a synthetic origin and can be used in all sorts of applications; from hair to skin and decorative cosmetics. 
Phenyl Trimethicone
Usually, phenyl trimethicone is used where a high shine/gloss is desired as it has a high refractive index. It's commonly found in lip glosses and nail varnishes for color cosmetics but is heavily used in hair care, too.
Archived: Lip-smacking Results: Mixture Design 'Pays Off' to Optimize Wax/Oil Lipstick Ratio
I'm surprised it is in this formula, as it is a matte base, but since it appears in the middle of the ingredient disclosure, it's probably used at a lower concentration to make the liquid lipstick base itself appear shiny whereas after application, it seems to flash off to leave a matte appearance.
HDI/Trimethylol Hexyllactone Crosspolymer
This spherical powder can help with long-lasting claims and water resistance. It creates a blurring effect and will contribute toward the mattifying and velvet attributes of this liquid lipstick. 
Dimethicone Crosspolymer
Dimethicone crosspolymers are used mostly for their cushioning effect as they help create rich, bouncy textures and aid pigment dispersion. They can possess an excellent skin feel and have strong mattifying/blurring effects. 
CI 77891/Titanium Dioxide
This ingredient is a white pigment that contributes to the shade of the liquid lipstick. Titanium dioxide also acts as a physical barrier and will provide mild SPF. 
Mica
Mica is a naturally occurring mineral that is finely crushed to create a soft luminous powder. Mica provides a gentle shine (more like a shimmer), so it's highly used in color cosmetics, mostly in eyeshadows. When mica is added to liquid lipsticks or foundations, it can create a soft dewy appearance to brighten and enhance facial features. 
Polymethylsilsesquioxane
Polymethylsilsesquioxane is a silicone sensorial enhancer. Although it is a powder, it flows like a liquid and spreads itself over the skin to leave a ball bearing-like coating that's pleasant to touch.
Due to its properties, it is a known wrinkle filler. In this application, it will help fill in the lip cracks to create a smooth flawless finish. It also helps to improve spreadability and provides a soft, velvety skin feel. 
CI 45410/Red 28 Lake, CI 19140/Yellow 5 Lake, CI 15985/Yellow 6 Lake
These lakes are the key ingredients in creating different shades with this personalized device. A lake pigment is made when a dye is precipitated onto a metallic salt. Lake pigments contain carbon since they are organic and the shades are usually much brighter in hue than standard pigments such as iron oxides. 
Tocopherol
Finally, this widely used antioxidant will prevent the color of the formula from fading/discoloring. 
Previous "Read the Label:" Clarins' Extra-Firming Lip and Contour Balm
The YSL Rouge Sur Mesure Device costs £250 ($299) and the color cartridge sets are £60 ($89) each. 
Disclaimer: This article was produced in the UK and therefore the INCI listing and INCI names comply with European labeling requirements.