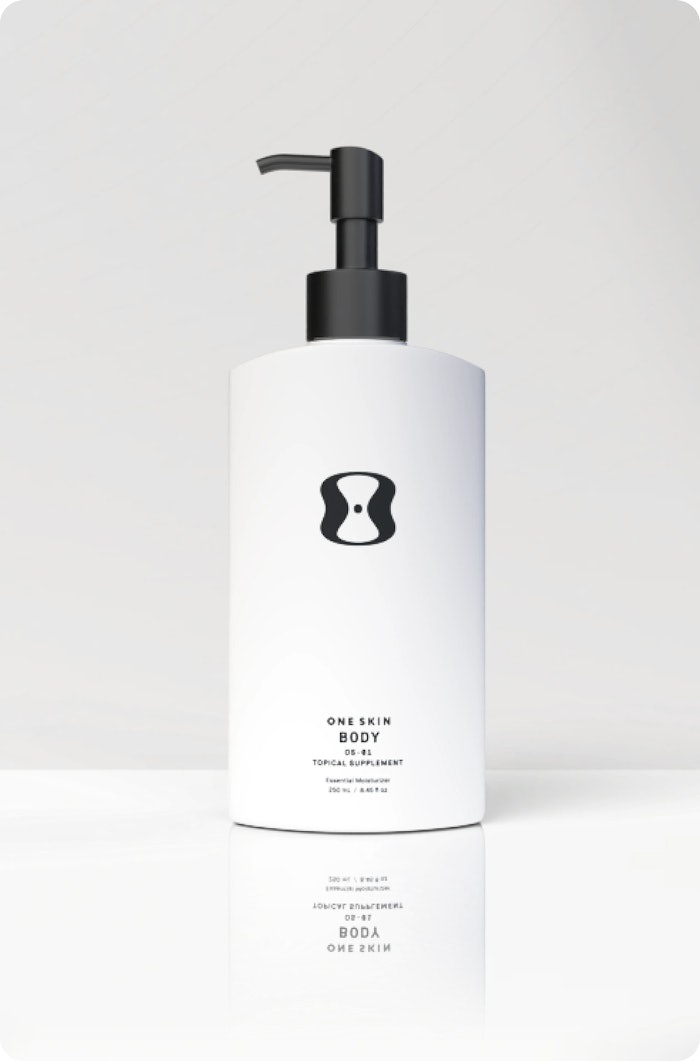 Image source: OneSkin
OneSkin has been focused on extending the lifespan of skin or skinspan for five years and has discovered a proprietary peptide, OS-01, to reduce the skin's biological age, as shown in lab-grown skin.
Featured: Body Beauty: Insights into Non-facial Skin Aging
In February 2021, OneSkin released its first product, a topical supplement for the face. In March 2022, OneSkin launched its second product, OS-01 Topical Supplement BODY.
OS-01 BODY is a skin longevity supplement for the body. OneSkin's technology provides aesthetic results while also helping to prevent skin deterioration that can lead to system-wide accelerated aging and health compromise. According to the company, OS-01 BODY has been validated to improve skinspan and, consequently, epidermal thickness and elasticity, barrier function, sun damage, as well as skin texture.
As a key ingredient in OS-01 BODY, the OS-01 peptide reportedly acts by decreasing the accumulation of senescent cells in order for healthy cells to proliferate, leading to increased production of collagen and hyaluronic acid in the skin.
While the OS-01 peptide is the main ingredient in OS-01 BODY, it is said to become even more efficient when formulated with other ingredients that enhance its anti-senescence properties, such as scorocarp mushroom extract, the phytochemical sulforaphane, genistein and ceramides. According to the company, OS-01 BODY was developed responsibly and is vegan, cruelty-free and suitable for all skin types.
"As your largest organ and the first line of defense, it is important to maintain the integrity and function of your skin so it continues to protect your body against external aggressors," said Alessandra Zonari, Ph.D., co-founder and chief scientific officer of OneSkin. "Other than applying SPF at the beach, the skin on your body is often overlooked even though it plays a major role in our overall health and affects the quality of life." 
"We intend to create a few products that would constitute a basic regimen to help our customers improve their skinspan at the cellular level," said Carolina Oliveira, Ph.D., founder and CEO of OneSkin. "Our goal is to be the company with the most advanced technology to target skin aging as our core business. Then, we plan to explore adjacent markets related to aging as we continue to uncover our consumer needs."
Ingredients (OS-01 BODY): Water (Aqua), Glycerin, Limnanthes Alba (Meadowfoam) Seed Oil, Sorbitan Olivate, Avena Sativa (Oat) Kernel Oil, Squalane, Prunus Domestica Seed Oil, Saccharide Isomerate, Cetearyl Olivate, d-Panthenol, Mangifera Indica (Mango) Seed Butter, Tremella Fuciformis (Mushroom) Extract, Tocopheryl Acetate, Decapeptide-52*, Allantoin, Asiaticoside, Centella Asiatica Extract, Sodium Hyaluronate Crosspolymer, Ceramide NP, Anadenanthera Colubrina Bark Extract, Lepidium Sativum Sprout Extract, Genistein, Niacinamide, Glycerol, Bentonite, Cetyl Palmitate, Sorbitan Palmitate, Lecithin, Xanthan Gum, Polyglyceryl-10 Laurate, Polyglyceryl-6 Olivate, Sorbitan Oleate, Glyceryl Caprylate, Polysorbate 80, Alcohol, Caprylyl Glycol, Sorbic Acid, Citric Acid, Sodium Citrate, Pentylene Glycol, Potassium Sorbate, Ethylhexylglycerin, Caprylhydroxamic Acid, Tetrasodium Glutamate Diacetate, Phenoxyethanol. *OS-01 Peptide
Previously: Amino Acid, Copper and HA Blend Shown to Stimulate Elastin, Collagen