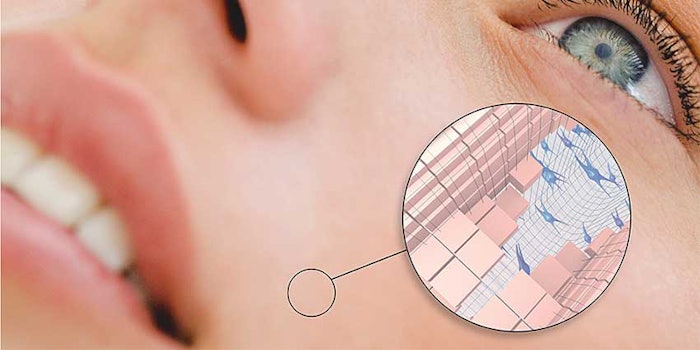 Silab
Silab has presented additional anti-aging efficacy data for the activity of its Glyco-Repair (INCI: Water (Aqua) (and) Hydrolyzed Ceratonia Siliqua Seed Extract) ingredient at the epidermal and dermal levels.
Related: Silab Develops 3D Model Mimicking Acneic Skin
In the epidermis, Glyco-Repair was confirmed to: reactivate different biological pathways involved in re-epithelialization, in particular keratinocyte differentiation; and to impart healing action. At the dermis level, the active restored the integrity of the supporting tissue, especially with its effects on the architecture of the dermal matrix and the functionality of fibroblasts. Taken together, Silab's active is a repairing ingredient obtained from locust beans that regenerates the endogenous processes of skin repair for a pro-regenerating, anti-wrinkle and smoothing effect.
The efficacy data further highlights how the active repairs age-related disorders. A study using fringe projection demonstrated that Glyco-Repair, tested at 3% for 14 days of twice daily application in Caucasian panelists, improved the skin microrelief and parameter Sa, reducing roughness by 8.6%. After 28 days of twice daily application, clinical scoring by trained evaluators using digital photos also showed the appearance of pores was reduced by 13.8%, and crow's feet wrinkles were decreased by 10.5%. In addition, self-evaluation by volunteers confirmed the data, as 83% perceived their skin grain to be more refined, and 94% reported skin to be smoother with fine lines and wrinkles appearing less visible.
Previously: Silab's Erisium Maintains Skin Proteostasis on a Cellular Level
Initially, to source an ingredient for tissue regeneration, Silab selected the carob tree (Ceratonia siliqua), also known as African locust bean tree, for its natural capacity to adapt to environmental constraints and for its repairing properties. A controlled enzymatic hydrolysis process enabled the extraction of oligogalactomannans with a mean degree of polymerization (DP = 17), which are responsible for the efficacy of the active ingredient.
Glyco-Repair is a patented solution of natural origin at 99.3% (ISO 16128) and respects biodiversity regulations. The active is available in an aqueous solution, recommended in formulas at 1-3% and compliant with international cosmetic regulations in Europe, the United States, Japan, China, etc.
For more information, contact Silab.